In Metrology, The comparator is a Precision Instrument, which is used to compare the dimensions of the given component with the actual working standard.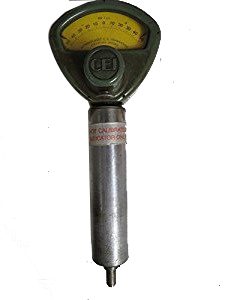 The Comparator is an indirect type of precision measurement because it will not measure the dimension, it will indicate the difference in measurement between the given component and working standard, and another magnification instrument is needed to measure this difference with accuracy. Still Didn't get it? Let's talk about The principle
Principle and operation of Comparator
The comparator (which will have a dial indicator) will be used along with the gauge blocks. Gauge blocks are also known as Slip Gauge (You already knows right?)
Now you need to Arrange the slip gauges to a dimension of which the workpiece should have.
The Slip gauges will have the working standard dimension, but the workpiece will have a deviation from this working standard.
The workpiece dimension may be less than or greater than this(Slip gauge) dimension
This difference in dimension can be shown with the help of the comparator's dial indicator. Still, wondered how it will work then. then you need to get to know How the  Johansson Mikrokator Works?
Let's see how many types of Comparators are available.
Classification Of Comparators
Electro-Mech. Comparators
Automatic gauging machines
Now you get an idea about what are the different types of Comparators right? And let's see some of the uses of Comparators…
Uses Of Comparators
They are used as Working  Gauges to maintain the tolerance in all stages of manufacturing.
Used in Laboratory Standards to co-relate the inspection gauges
For Final Inspection, Comparators are used after production of parts before assembly.
To check Newly purchased Measuring Instruments.
Can be used to Inspect the parts received from Outside sources.
Conclusion
You can follow the links to get the individual articles for the individual comparator types. If you have any doubts, please let us know in the comment section below.