A comparator is a precision instrument used to compare the Dimensions of a given working component with the actual working standard.  There are different types of comparators are available. In this article, we are going to discuss the Pneumatic Comparators or Pressure Comparators
What are Pneumatics?
The instruments which are operated by the gas or air under pressure are called Pneumatic.
In Pneumatic comparators, the air is used as the magnification system. Using the pneumatic comparators enables two approaches for measuring the Deflection in measurement by
Measuring the Air pressure
Measuring the Velocity of Airflow
The response of the comparator working on the airflow is quite faster when compared to the comparator working on the air pressure. We can magnify up to 30,000 more than the actual movement. This is all because there are no moving parts.
Let's see, the working principle of the Pneumatic comparator which is sensing with the air pressure.
Pressure sensitive Pneumatic Comparators/Pressure Comparators Working Principle
The Pneumatic Comparators are working based on Bernoulli's Theory.
So what Bernoulli's Theory says?
Bernoulli's theory states that: The velocity of the fluid will be increased with respect to increasing pressure. 
See the following Schematic diagram for the Principle of working of a Pneumatic comparator.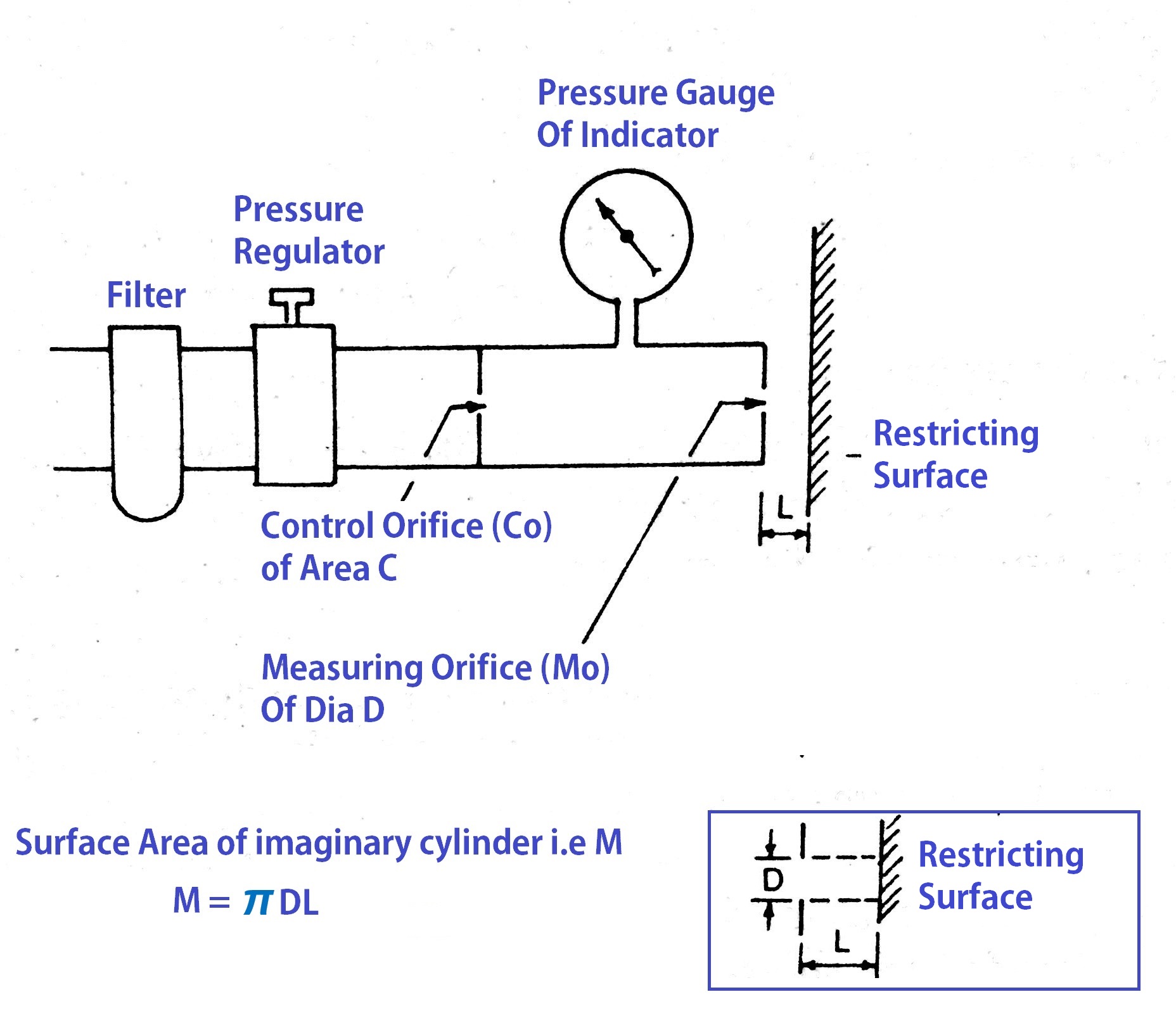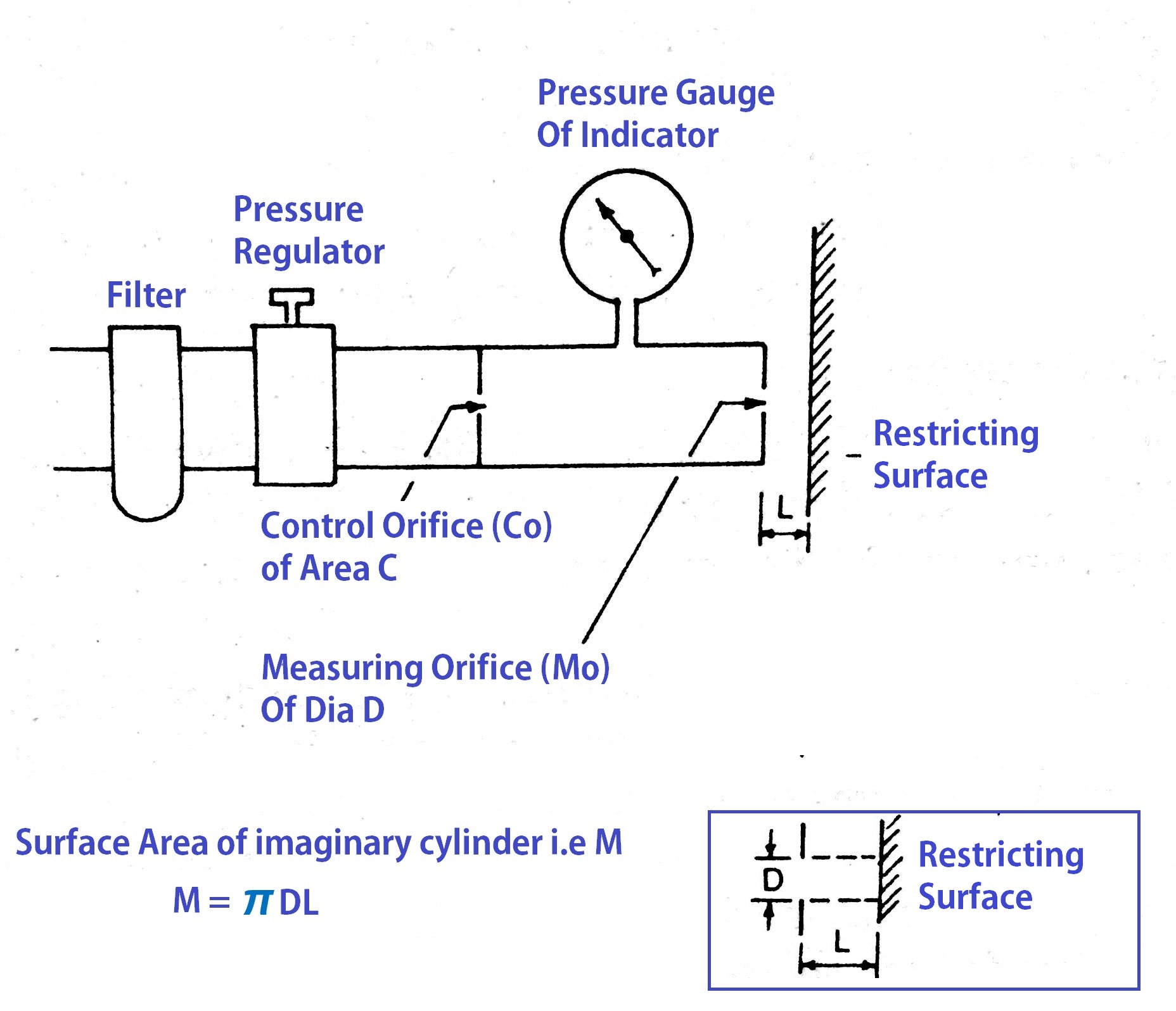 List of components in Pneumatic Comparators
Control Orifice (CO)
Measuring Orifice (MO)
Pressure Gauge
Pressure Regulator
Air Filter
Let's See how it will work…
The restricting surface is the measuring surface. So changing the position of the workpiece will affect the distance "L". Simultaneously this will change the pressure of the air coming from the measuring orifice(MO).
 But The Control orifice(CO) will provide the air at a constant pressure into the Intermediate chamber (The area between the Control orifice and Measuring Orifice is known as the intermediate chamber).
There is a Pressure gauge arranged to this intermediate chamber to indicate the pressure change in the Intermediate chamber.
This Pressure change will be occurred due to changing the "L" i.e Distance between the Measuring then orifice and the restricting surface.
This pressure indicator reading will be calibrated as the change in the size of the measuring orifice. This is the measuring deviation from the standard value.
This type of comparator is used to compare the bores mostly, but later they become a universal standard.
Advantages of Pneumatic Comparators
A high degree of magnification is possible.
 No wear takes place on the workpiece due to no contact of the comparator to the workpiece.
High accuracy can be achieved due to very few moving parts.
Suitable to measure the diameter of holes.
The best instrument to determine the ovality and taper of the circular holes.
Disadvantages of Pneumatic Comparators
Low speed of response compared to other types of comparators like optical comparators.
an accurate pressure regulator is required. and the apparatus is not portable.
The scale is not uniform.
Read about the other Solex Pneumatic Gauge Which is the type of Pneumatic comparator.
Also Read about other comparators types