As we have discussed the important qualities of the Spark-Ignition Engine Fuels and Compression-Ignition Engine Fuels, The flash point and the fire point are the two important characteristics of the liquid fuels.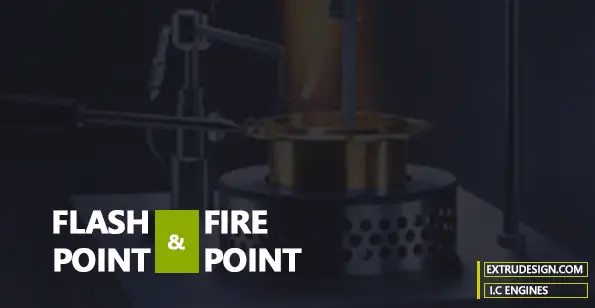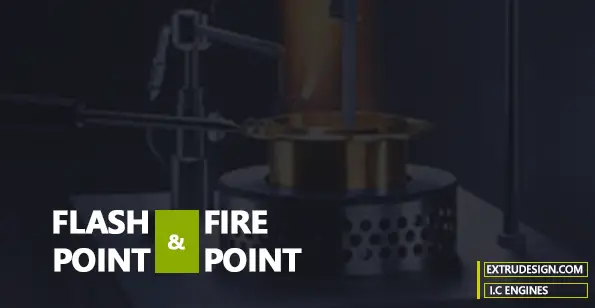 Flash Point and Fire point
For selecting the suitable fuel for the internal combustion engines, flash point and the fire points are the two important characters to consider for the spark ignition Engines and the Compression Ignition Engine fuels.
What is Flash Point?
For the Liquid fuels, Flash Point denotes the lowest temperature at which the vapour-air mixture can catches fire when it is brought in contact with the fire.
What is the Flash point for Diesel and Petrol?
The flash point of diesel fuel varies from 52°C to 96°C (126°F to 205°F)depending upon the type of diesel fuel.
The flash point of Petrol (Gasoline) is around – 43°C (-45.4°F) or about -35°C to -45°C (-31°F to 49°F)
What is Fire point?
On the other hand, the lowest temperature at which the vapour-air mixture can catch fire within the absence of external fire source calls the fire point of the fuel.
What is the Fire point for  Diesel and Petrol?
The Fire point for the Diesel will be 10° C (50° F) higher than the Flashpoint of diesel.
The fire point for petrol also will be higher than the flashpoint of petrol.
There are two important things need to remember
From the above definitions, we can observe that FlashPoint is always less than the Fire point.
Below the Flashpoint there will be no fire will catch. This is due to the liquid fuel cannot evaporate enough into the vapour to form a combustible vapour-air mixture. So this Flashpoint is the minimum temperature at which the liquid fuel can enough vapour-air mixture to form a combustible mixture.
General Trivia: Petrol (gasoline) has a very low fire and flash point temperatures because it is very volatile and it readily catches fire due to the vapours produces by the fuel at even below room temperatures, which easily mixes with the air and ignites instantly. On the other hand, Diesel has contrasting behaviour.
Conclusion
We have discussed the definitions and the flash and fire points for the petrol (Gasoline) and the diesel. If you have further thoughts on this topic, please let us know in the comment section below. We will help you.