An Engine is a device which transforms one form of energy into another form of Energy. An internal combustion engine is a heat engine where it undergoes different cycles of operations in a sequent manner to convert the thermal energy into useful work. We have already discussed the 4 Stroke engine cycle with the compression Ignition working principles. In this article, we are going to discuss particularly the Compression Ignition Engine Working principle.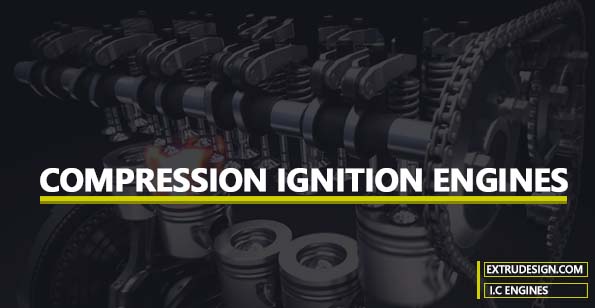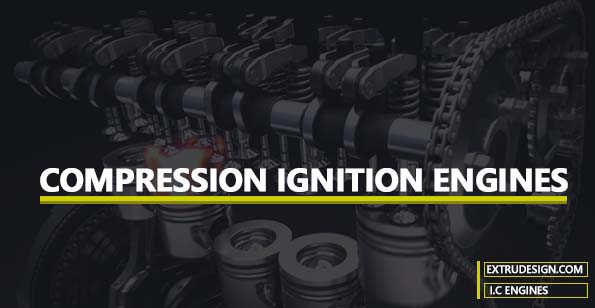 Compression Ignition Engine
Compression Ignition Engine is an Internal combustion engine also known as the Diesel engine named after Rudolf Diesel. Where the Ignition of the fuel injected into the cylinder is caused by the elevated temperature of the air in the cylinder due to the mechanical compression.
The Compression Ignition engine principle can work in both Four-stroke Engine and Two Stroke engines. But the Four Stroke Engine is dominant in the world due to high thermal efficiency and the 2 stroke Compression Ignition engines is not efficient so it is rarely used.
In both of these engines, there are these following actions.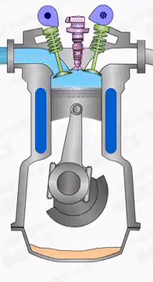 Suction or intake stroke,
Compression stroke,
Expansion or power stroke,
Exhaust stroke
In the Intake stroke, the Air is drawn into the cylinder thru the ports/valves. Then this air will be compressed in the cylinder during this stroke the inlet and exhaust ports/valves will be closed condition.
At the end of the compression stroke, the fuel will be injected into the cylinder. Due to the mechanical compression of the air, the fuel will be self-ignited with the elevated temperature. This mechanical compression is an adiabatic process.
After the combustion, the expansion or power stroke and the Exhaust stroke are taken place and completes the thermodynamic cycle.
More about Compression Ignition Engines
Four Stroke Diesel Engines( 4 Stroke – Compression Ignition Engine) is the Highest Thermal Efficiency engines among the both Internal and the External Combustion Engines.
In Compression Ignition Engine we have to use the Low self-Ignition temperature oil.
Usually, the compression ratio of these engines will be ranging from 16 to 20.
The combustion takes place in the Compression Ignition Engines as a heterogeneous. i.e the fuel will not be completely mixed with the air and may not be burnt completely.
The engine structure should be bulky and heavy due to the high compression required.
Conclusion
We have discussed the working principle of the Compression Ignition Engine and how the compression of the air is taken place and the combustion of the fuel with the elevated temperatures. If you have any thoughts, please leave them in the comment section below.