Spark-Ignition engines use volatile liquid fuels. We have to use an air-fuel mixture as the working fluid in these engines. A well-mixed fuel mixture will result in the greater performance of the engine. So this can not be done in the inlet manifold itself. So it has to be done outside the engine.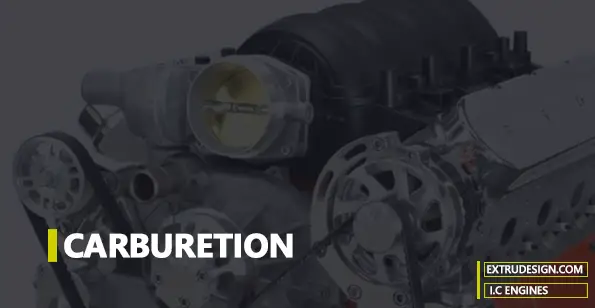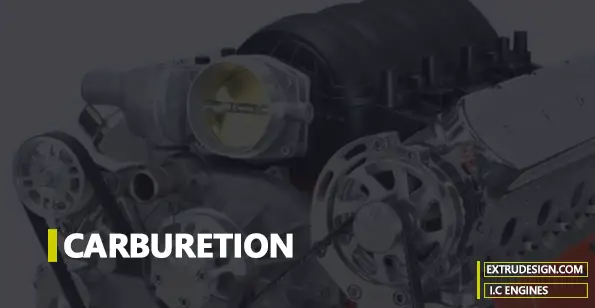 Carburetion Definition
The process of preparation of a combustible air-fuel mixture by mixing the proper amount of fuel with the air before it goes into the cylinder is called Carburetion.
We have to use a special device for this action called Carburetor.
Factors affecting the Carburetion
Engine Speed
Volatility of fuel
The Temperature of Air coming into the Carburetor
Design of Carburetor
Engine Speed
The modern engines are running at very high speeds. So that the time available for the carburetion is very limited.
Let's take an example of an engine running at 3000 RPM, it would take 10 milliseconds for the mixture induction during the suction stroke, whereas the engine running at 6000 RPM then the time required for the mixture induction is 5 milliseconds only.
In order to achieve high-quality air-fuel mixture the velocity of the air passing thru the Carburetor has to be increased particularly at the point where the fuel is injected in the Carburetor. This can be done by introducing the venturi tube in the Carburetor.
The fuel will be injected into the venturi tube at the minimum cross-section. this is called Venturi or Throat.
Volatility of Fuel
The vaporization characteristics of the fuel play an important role in producing a high-quality air-fuel mixture.
As we have already discussed the time taken for the introduction of the mixture into the cylinder is very less so that the fuel needs to evaporate within stipulated time by the time of mixing in the Carburetor. This depends on the volatility of the fuel.
The Temperature of Air coming into the Carburetor
The temperature and the pressure of the air coming into the Carburetor has a high influence on efficient carburetion. As the temperature is high the vaporization of fuel will increases. It will result in a more homogeneous mixture.
But due to the high temperature, more fuel will vaporize and having less mass flow into the cylinder if the same air-fuel ratio is maintained. This will lead to less volumetric efficiency of the engine.
Design of Carburetor
Proper design of the Carburetor ensures the supply of the desired composition of the mixture under different operating conditions of the engine.
Conclusion
We have discussed the definition of Carburetion and also the different factors affect the quality of the mixture. If you have any thoughts on this topic, please let us know in the comment section below.