In Metrology V-Block are material holding devices for the machining operations such as milling or drilling etc. In this article, we have discussed what is V-block, Construction of V-Block, Uses of V-Block.
What is V-Block?
V-Block is a jig structure which is having True V faces(Grooves) and slots.
This is a Cast iron structure.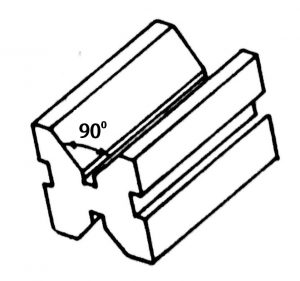 The main purpose of this V-block is to hold the Cylindrical objects in place for marking the centres for further lathe machining.
The centre marking can be done by surface gauge.
Construction of  V-Block
This is a Cast Iron structure, all faces are truly machined(

Truely machined means that the flatness and the Parallelity of any two faces and the angles between any two faces are true values. no deviations occurred because it is a precession instrument

).
The angle between the V faces(Grooves) is 90 °. and 120° angled V-blocks are also available.
 They can be available in different Grooved shapes.
To hold the workpiece in place, U-Clamps are provided with a Clamp Screw.
The U-clamp will engage with the V-block by the rectangular slots provided on the Side faces. as you can observe in the shown picture.
Magnetic V-blocks are also available so that there is no need for this U clamp.

Magnetic V-Blocks

Source: Labbazzar.in

There is a control button to control the magnetic forces. as you can see them in the side picture.
Based on the accuracy in flatness these V-Blocks are classified into two grades Grade-A and Grade-B.
Uses of V-Block
Used to Hold the Cylindrical Objects in place for marking centerlines with the Surface gauge.
To Hold down the rectangular job piece at 45° angle to the vertical direction.
Used as supports while holding long Cylindrical bars parallelly (They can be two of them or multiple V-Blocks based on the length of the cylindrical object.)
Can also be used to check the roundness of the cylindrical objects.
Ease of use of  V-Block
These blocks are made of Cast iron, So we should prevent V-Block from rusting. The accuracy should be checked periodically for basic accuracy.
Suggested articles: Surface Gauge, Angle plate.