In Metrology, the Surface gauge is a non-precision instrument, Used to draw the parallel lines and to find the centre of round section material. Simply it is used to scribe parallel lines on the workpiece.
Why do we need to draw parallel lines or finding the centre of the cylindrical object?
the answer is to set the Tool and job on the lathe machine for machining.
The surface gauge will be used along with V-Block and angle plate as well.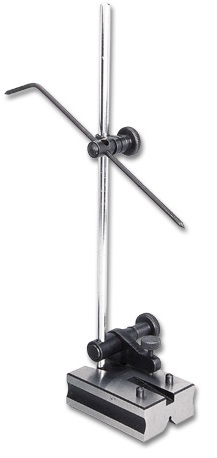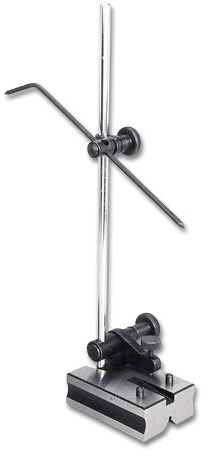 Surface Gauge Construction:
This surface gauge will have a magnetic base that can effectively be turned "on" and "off" its magnetic power at will. So that they can lock to the position while using and easily can be removed by switching off the magnetic power. It is used along with the V-Block. There is a vertical Bar which carrying a scribbler attached by a universal clamp to the vertical bar. This vertical bar called Spindle. This universal clamp allows the scribbler to move, rotate along all directions. This universal clamp will have screws to adjust the scribbler up and down, back and forth on the vertical bar.
The base of the Surface gauge will be having slots at the bottom face as shown so that it can be placed on cylindrical objects as well. Sometimes it will be having a non-magnetic base.
This gauge can give more precise measurements when we used along with the dial indicator.
Working Principle:
Initially, The cylindrical object will be placed on the V-Block.
Then the surface gauge will be moved horizontally along the section face of the cylindrical object. By this way, we can draw the parallel lines.
The object will be rotated about 90° and draw another parallel line on the face of the object. again rotate the object about we can get the centre of the cylindrical object 90° and draw parallels line.
Repeat the step 3 from the four sides to get the parallel lines from four sides
we will get a rectangle from the four sides By drawing parallel lines from four sides. see the following images.
Finally, by drawing the diagonals to the rectangle we can get to the centre of the cylindrical object.
A short video tutorial on Surface gauge in you tube also.