First of all, What is a Reticle? A Reticle is a Graticule that turns the microscope into a measuring device in Metrology. On the eyepiece of the microscope, there are the graduated reference lines are etched to take measurements, these are the Reticles. In this article, we are going to discuss the different Reticles with schematic diagrams.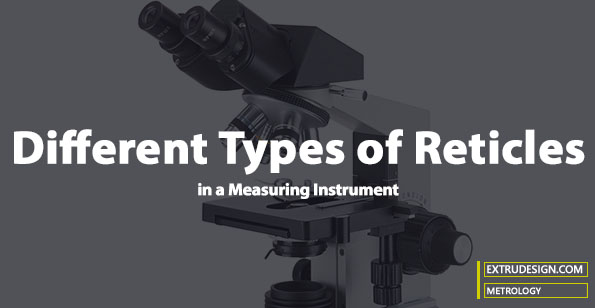 The following are the 4 different types of reticles used in the microscope to take the precise measurements of machine part features. Following is the schematic diagram that represents Type A, Type B, Type C and Type D Reticles.


Type A
The most common type of Reticle is Type A, but it does not provide high accuracy. In this Type A Reticle, the cross-wire(the reference line) thickness is very thin and usually varies from 1 to 5 μm. This type of Reticle is used in microscopes that have a magnification of 5× for the objective lens and 10× for the eyepiece.
Type B
In Type B reticle, the reference lines (cross-wires) are in the form of thin broken lines as shown in the above figure. It is very much useful when the line of the measuring feature is much narrower than the reference line on the eyepiece.
Type C
For precise measurement along a scale, Type C Reticle is convenient. Parallel lines spaced slightly wider than the scale lines as shown in the above figure, which enables precise settings to be made. In this type of Reticle, the eye averages any slight irregularities of the edges of the scale lines when seen in the clear spaces along each side. This is known as bifilar reticle.
Type D
Type D Reticle provides the highest accuracy of reading among the other Reticle types. It is preferred in measurements involving a high degree of precision like photo-etching jobs. The cross-wires(reference lines) are at 30° to each other. The eye has the ability to judge the symmetry of the four spaces created between the cross-wires and position the centre at the precise location for taking readings.
Conclusion
These Reticles have huge applications in metrology. Many optical measuring instruments can achieve high accuracy with the help of Reticles. Let us know what do you think in the comment section below.