The components that we design and engineering should satisfy the service and the requirement. For that, engineers make sure that each type of material should be tested before we used for the making of the components.  Along with the strength, there are other properties are also needs to test such as hardness, toughness, brittleness, etc. Let's discuss what are the different types of material testing methods ( Testing of materials).

Testing of materials
As we said above the need for the testing of materials, there are two types of tests for the materials. They are
Destructive Testing
What is Destructive testing?
The destructive test is meant to test the material strength.
The specimen which is under destructive test subjected to the fracture.
The destructive test intended to study the behaviour of the metal under different loading conditions.
The Non-destructive tests are employed for the finished products.
The finished product which is under Non-destructive test will not be subjected to the fracture.
The Non-destructive test intended to know the internal defects of the finished product.
Material Testing Methods
Ok. now you have an idea how the basic types of testing of materials classified right? And again there is a subclassification in these destructive and the Non-Destructive tests. the subclassification is as follows.
Classification of Destructive Testing
Static Testing
Cyclic Testing
What is Static Testing?
Where the load is applied gradually in static testing. different material testing methods available under static testing. they are listed below.
When the given specimen is subjected to shock loads then it is known as the impact load testing or the dynamic load testing.
What is Cyclic Testing?
When the load is repeatedly varied in magnitude and the direction then this test is called Impact or dynamic testing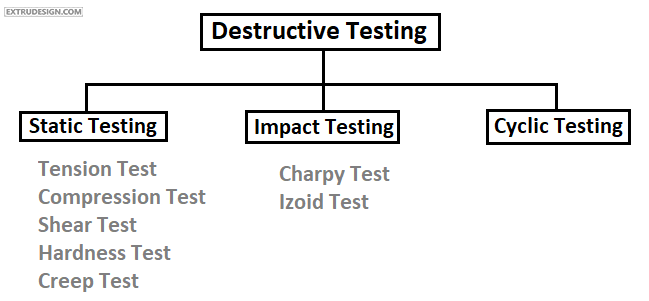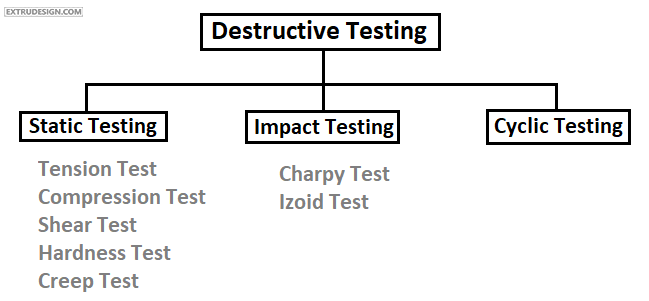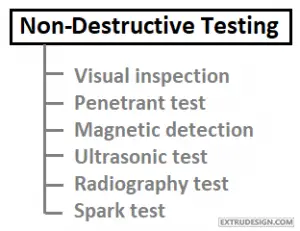 Conclusion
In this article, We have given the list of the different Material Testing Methods? (Testing of Materials). We have briefly discussed all these methods in individual articles, follow the links for full articles. If you have any thoughts please let us know in the below comments.