In Metrology, Wire gauges are used to measure the diameters of the wires.
These wire gauges are available in a circular or oblong shape and it is having notches along the edges of the shape(as shown in below picture) and each notch is stamped with wire size number.
This wire gauge can also be used to find out the thickness of sheet metal as well. The available Wire gauges are ranging from 0.1mm  To 10mm 
As you can see the picture below which is stamped with the Sizes on the notches.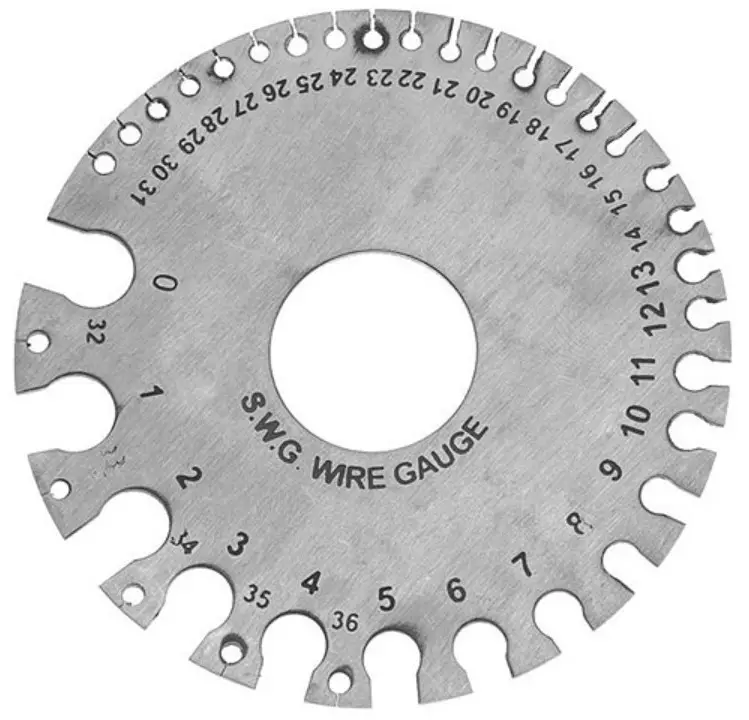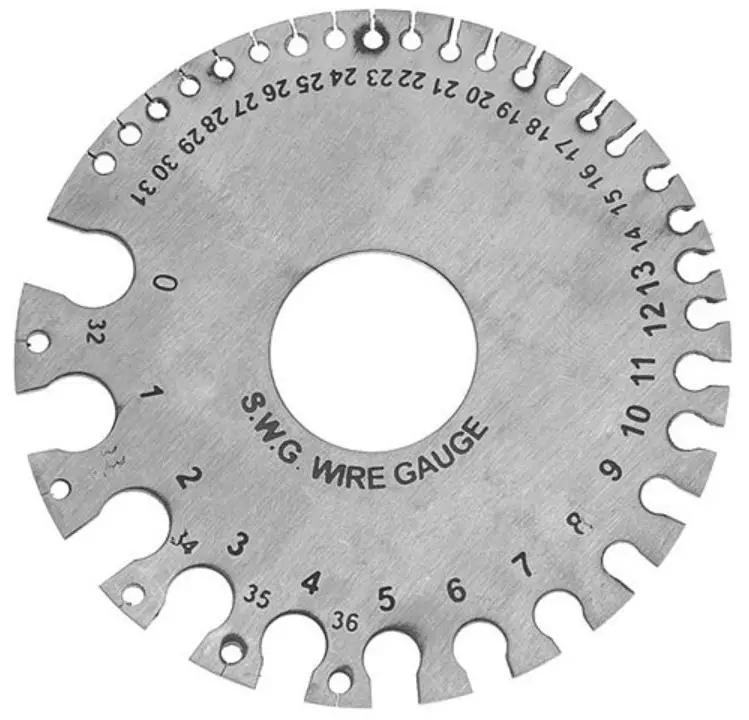 The most common names for this wire gauge is SWG(Standard Wire Guage). This wire gauge is constructed by improving Birmingham Wire Gauge(Stubs Iron Wire Gauge).
The metric wire-size standard used in most parts of the world.
So let's see how we can measure the diameter of a wire or thickness of a sheet by using wire gauge.
Measuring with  Wire Gauge
take the wire/Sheet, and try to insert into the notch. It should pass thru the notch.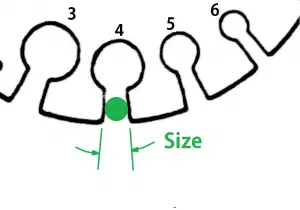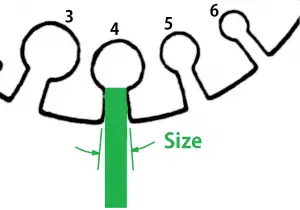 A)If the wire passes thru the notch very freely then try to pass it thru the adjacent small notch.
B) If the wire passes thru the notch with the correct tightness then it will be the size of the wire. take the size number from the wire gauge notch. (See the below conversion tables for the wire diameter corresponding to the Gauge size)
C)If the wire didn't pass thru the notch, then try to pass it thru the adjacent bigger notch.
See the following GIF images to understand the procedure.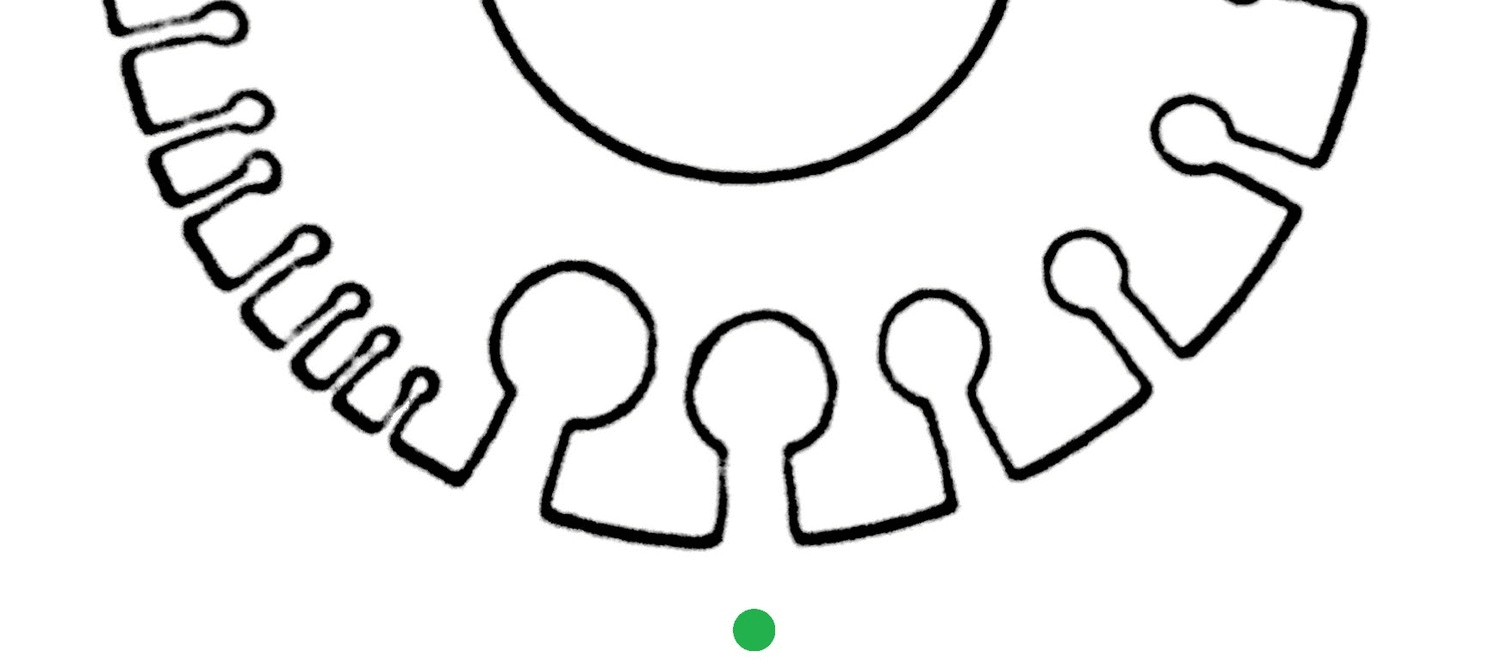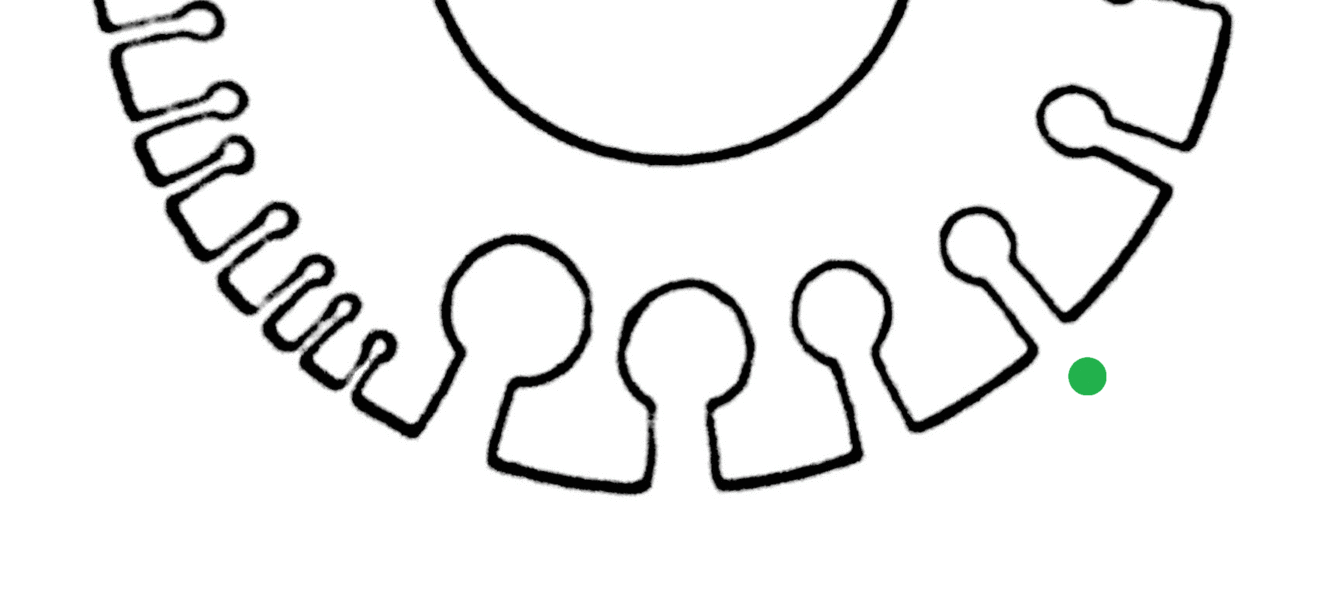 The different types of wire gauges are American Wire Gauge (AWG), Standard Wire Guage(SWG). the difference between these wire gauge is the standards.
We have listed the wire gauges equivalent sizes in different standards.
Conversion table for Wire Gauges
| | | | | |
| --- | --- | --- | --- | --- |
| WIRE GAUGE SIZE | AMERICAN or BROWN AND SHARP DIAMETER (INCHS) | DIAMETER (MILLIMETERS) | BIRMINGHAM or STUBS | US STANDARD |
| 1 | 0.2893 | 7.348 | 0.300 | 0.281 |
| 2 | 0.2576 | 6.544 | 0.284 | 0.266 |
| 3 | 0.2294 | 5.827 | 0.259 | 0.250 |
| 4 | 0.2043 | 5.189 | 0.238 | 0.234 |
| 5 | 0.1819 | 4.621 | 0.220 | 0.219 |
| 6 | 0.1620 | 4.115 | 0.203 | 0.203 |
| 7 | 0.1443 | 3.665 | 0.180 | 0.188 |
| 8 | 0.1285 | 3.264 | 0.165 | 0.172 |
| 9 | 0.1144 | 2.906 | 0.148 | 0.156 |
| 10 | 0.1019 | 2.588 | 0.134 | 0.141 |
| 11 | 0.0907 | 2.304 | 0.120 | 0.125 |
| 12 | 0.0808 | 2.053 | 0.109 | 0.109 |
| 13 | 0.0720 | 1.829 | 0.095 | 0.0938 |
| 14 | 0.0641 | 1.628 | 0.083 | 0.0781 |
| 15 | 0.0571 | 1.450 | 0.072 | 0.0703 |
| 16 | 0.0508 | 1.291 | 0.065 | 0.0625 |
| 17 | 0.0453 | 1.150 | 0.058 | 0.0563 |
| 18 | 0.0403 | 1.024 | 0.049 | 0.0500 |
| 19 | 0.0359 | 0.9116 | 0.042 | 0.0438 |
| 20 | 0.0320 | 0.8118 | 0.035 | 0.0375 |
| 21 | 0.0285 | 0.7230 | 0.032 | 0.0344 |
| 22 | 0.0253 | 0.6438 | 0.028 | 0.0313 |
| 23 | 0.0226 | 0.5733 | 0.025 | 0.0281 |
| 24 | 0.0201 | 0.5106 | 0.022 | 0.0250 |
| 25 | 0.0179 | 0.4547 | 0.020 | 0.0219 |
| 26 | 0.0159 | 0.4049 | 0.018 | 0.0188 |
| 27 | 0.0142 | 0.3606 | 0.016 | 0.0172 |
| 28 | 0.0126 | 0.3211 | 0.014 | 0.0156 |
| 29 | 0.0113 | 0.2859 | 0.013 | 0.0141 |
| 30 | 0.0100 | 0.2546 | 0.012 | 0.0125 |
| 31 | 0.0089 | 0.2268 | 0.010 | 0.0109 |
| 32 | 0.0080 | 0.2019 | 0.009 | 0.0102 |
| 33 | 0.00708 | 0.178 | 0.008 | 0.0094 |
| 34 | 0.00630 | 0.152 | 0.007 | 0.0086 |
| 35 | 0.00561 | 0.138 | 0.005 | 0.0078 |
| 36 | 0.00500 | 0.127 | 0.004 | 0.0070 |
| 37 | 0.00445 | 0.1131 | | 0.0066 |
| 38 | 0.00397 | 0.1007 | | 0.0063 |
| 39 | 0.00353 | 0.08969 | | |
| 40 | 0.00314 | 0.07987 | | |