Topic: What are the Rules for writing SI Units? | space between number and unit scientific writing 
What are the Rules for writing SI U...
x
The different Measurement systems are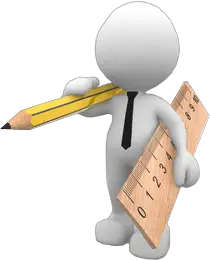 Read more about Measurement systems here…
S.I System
S.I means System International. It is more superior to all other systems. This system is extension and refinement of the Metric system. This system provides one basic unit for each physical quantity. it is comprehensive because its seven basic units cover all the disciplines.
There are some basic thumb rules are need to be followed while working with S.I.unit system.
Rules for writing SI Units
While writing a  Number having five or more digits, the digits should be placed in groups of three separated by spaces(No need of using commas) counting both to the left and the right of the decimal point. [

Example:

978542.456289 should be written as 978 542.456 289 ]
A four-digit number doesn't need to maintain the grouping of three separated by spacing unless the four-digit number is used in a column of numbers with five or more digits.
A dash(-) is needed to be used to separate units that are multiplied together in S.I units. [

Example:

newton x meter should be written as N-m ]
The plural of units is not allowed to use with the units symbols. [

Example:

if the units are metre or metres, we should write as m

only

]
The unit symbols should be written in lower case(small letters), except the unit symbols derived from the proper names. [

Example:

while writing any units like

meters

, 

pounds

,

inches

, we should write them in lower case=

m

, lb, in, but when it comes to

newton

, 

watt

we should write them with uppercase letter

N

,

W

respectively]
While mentioning the unit with the complete/full name should be written in lower case(small letters) only. Should not write in Uppercase(Capital Letter). [Example: while mentioning the units we should write as

newton

and

watt

, when referring their names we can write as Newton, Watt]
These are the thumb rules for S.I. units
Source: Machine Design[S. Chand]
Tags: the Rules for writing SI Units, Machine Design, space between number and unit scientific writing, Mechanical Engineering Basics