The power screws (also known as translation screws) are used to convert rotary motion into translatory motion. For example, in the case of the lead screw of lathe, the rotary motion is available but the tool has to be advanced in the direction of the cut against the cutting resistance of the material. Let us discuss the different types of screw threads used for power screws.
In the case of a screw jack, a small force applied in the horizontal plane is used to raise or lower a large load. Power screws are also used in vices, testing machines, presses, etc. In most of the power screws, the nut has axial motion against the resisting axial force while the screw rotates in its bearings. In some screws, the screw rotates and moves axially against the resisting force while the nut is stationary and in others, the nut rotates while the screw moves axially with no rotation.
Types Of Screw Threads
The three types of screw threads mostly used for power screws are Square thread, Acme or trapezoidal thread, and Buttress thread.
Square Thread
A square thread, as shown in the following figure, is adapted for the transmission of power in either direction.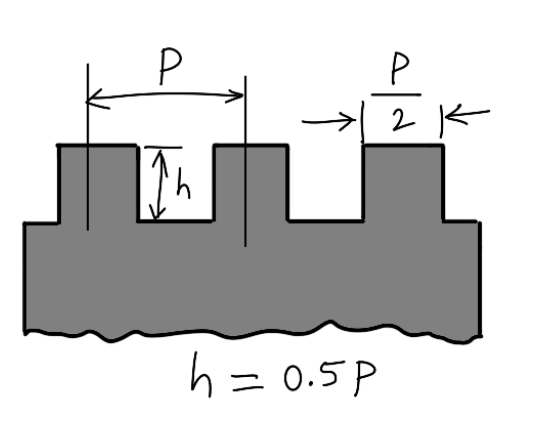 This thread results in maximum efficiency and minimum radial or bursting pressure on the nut. It is difficult to cut with taps and dies. It is usually cut on a lathe with a single-point tool and it can not be easily compensated for wear. The square threads are employed in screw jacks, presses, and clamping devices.
ACME or Trapezoidal Thread
An acme or trapezoidal thread, as shown in the following figure is a modification of square thread. The slight slope given to its sides lowers the efficiency slightly than square thread and it also introduces some bursting pressure on the nut but increases its area in shear.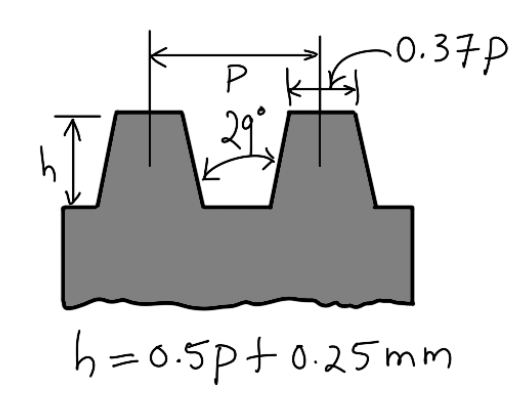 It is used where a split nut is required and where provision is made to take up wear as in the lead screw of a lathe. Wear may be taken up by means of an adjustable split nut. An acme thread may be cut by means of dies and hence it is more easily manufactured than square thread.
Buttress thread.
A buttress thread, as shown in the following figure is used when large forces act along the screw axis in
one direction only. This thread combines the higher efficiency of square thread and the ease of cutting and the adaptability to a split nut of ACME thread.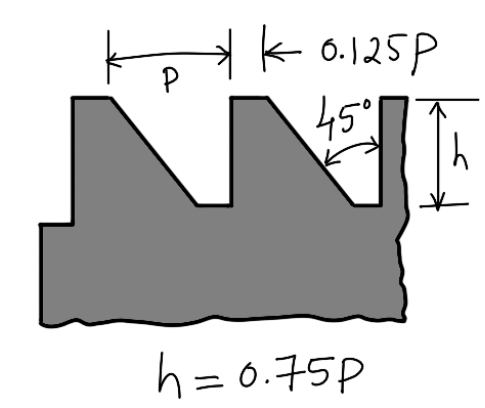 It is stronger than other threads because of the greater thickness at the base of the thread. The buttress thread has limited use for power transmission. It is employed as the thread for light jack screws and vices.
Multiple Threads
The power screws with multiple threads such as double, triple, etc. are employed when it is desired to secure a large lead with fine threads or high efficiency. Such types of threads are usually found in high-speed actuators.