Glass fibers are the advanced fibers which are synthetic fibers and inorganically prepared. Fibers are used as reinforcement in the Composite materials. Glass Fiber is one of the most common advanced fibers in the composites industry. We have discussed the different types of Glass Fiber in this article.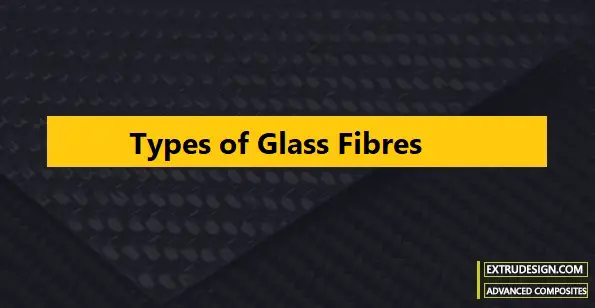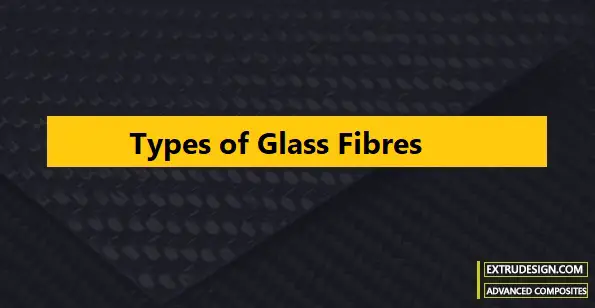 Types of Glass Fiber
Depending upon the constituent raw materials used and their composition, Glass fiber/Fiberglass has the following classification.
A-glass – Alkali glass made with soda lime silicate. Used where electrical resistivity of E-glass is not needed. A-glass or soda-lime glass is the predominant glass used for containers and windowpanes.
AR-glass – Alkali Resistant glass made with zirconium silicates. Used in Portland cement substrates.
C-glass – Corrosive resistant glass made with calcium borosilicates. Used in acid corrosive environments.
D-glass – Low dielectric constant glass made with borosilicates. Used in electrical applications.
E-glass – Alkali free, highly electrically resistive glass made with alumina-calcium borosilicates. E-glass is known in the industry as a general-purpose fiber for its strength and electrical resistance. It is the most commonly used fiber in the fiber-reinforced polymer composite industry
ECR-glass – An E-glass with higher acid corrosion resistance made with calcium aluminosilicates. Used where strength, electrical conductivity, and acid corrosion resistance is needed.
R-glass – A reinforcement glass made with calcium aluminosilicates used where higher strength and acid corrosion resistance is needed.
S-glass – High strength glass made with magnesium aluminosilicates. Used where high strength, high stiffness, extreme temperature resistance, and corrosive resistance is needed.
S-2 glass – Glass similar to, but with somewhat improved properties with, S-glass. ("S-2" is a brand name originally created by Owens-Corning but spun off in 1998 and is now a registered trademark of AGY Holdings Corp.)
Forms of Glass Fibers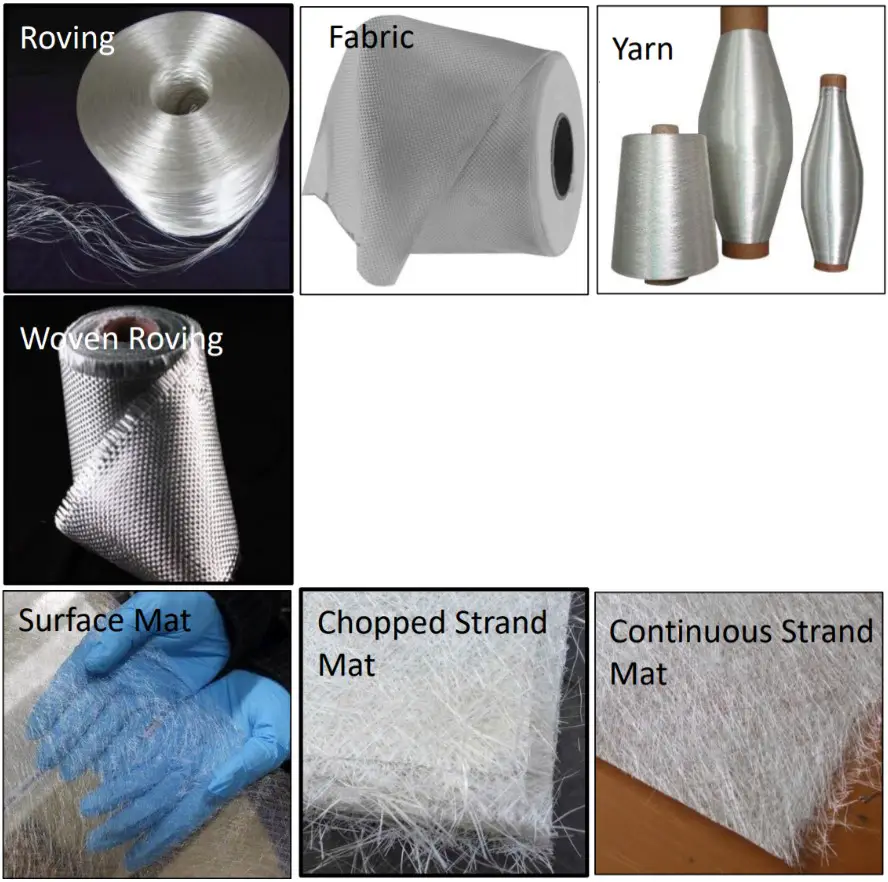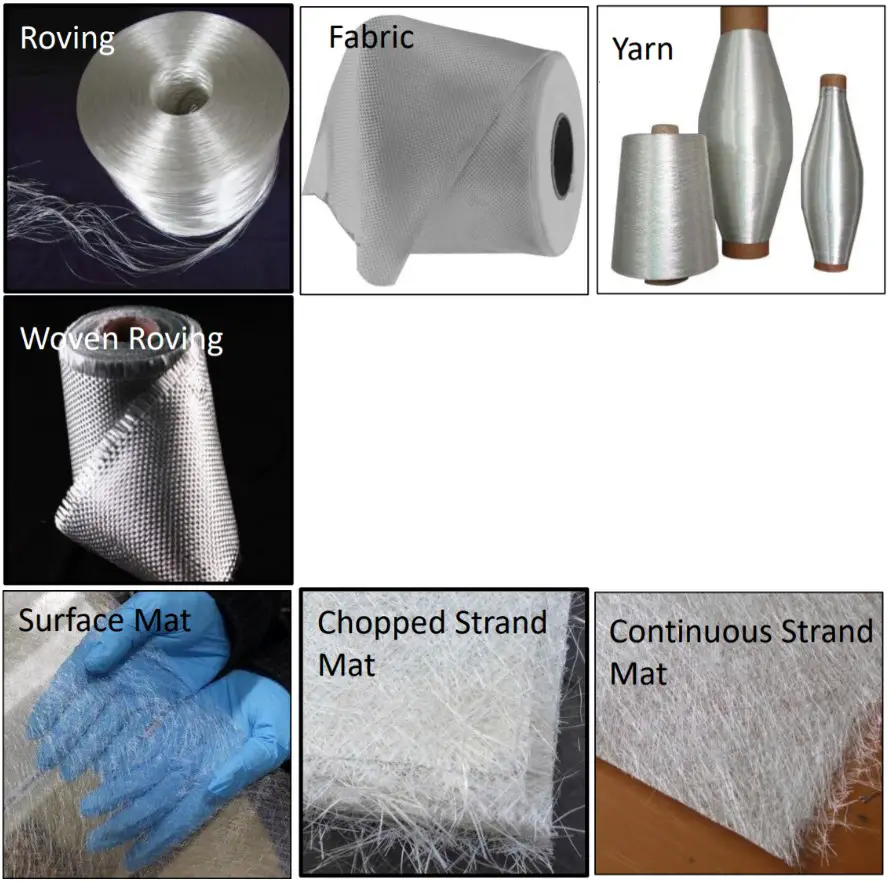 Roving is a collection of parallel continuous ends of filaments. Generally, rovings are made with fibers of diameter 9 or 13 μm.
WOVEN ROVING Rovings may be woven into a heavy, \Coarse-weave fabric for applications that require rapid thickness buildup over large areas.
Chopped-strand mat is a nonwoven material in which the fiberglass strands from roving are chopped into 25-50-mm lengths, evenly distributed at random onto a horizontal plane, and bound together with an appropriate chemical binder.
Continuous-strand mat consists of unchopped continuous strands of fiberglass deposited and interlocked in a spiral fashion.
Surfacing mat or veil is a very thin mat of single continuous filaments often used as a surface reinforcing layer in hand lay-up or molding process.
A yam is a combination of strands that can be woven suitably into textile materials. The continuous, individual strand as it comes from the bushing represents the simplest form of textile fiberglass yarn
Fiberglass yam is woven into fabric by standard textile operations.
Two forms of fiberglass can be produced. One is continuous fiber and the second one is the Staple (discontinuous) fiber.
Mechanical Properties of Glass fibers
Fiber Type
Density (g/cm3)
Tensile Strength
(MPa)
Modulus
(GPa)
Elongation Percent
A-glass
2.44
3300
72
4.8
AR-glass
2.7
1700
72
2.3
C-glass
2.56
3300
69
4.8
D-glass
2.11
2500
55
4.5
E-glass
2.54
3400
72
4.7
ECR-glass
2.72
3400
80
4.3
R-glass
2.53
4400
86
5.1
S-glass
2.53
4600
89
5.2
S-2 glass
2.53
4600
89
5.2
Fiber glass Advantages:
High strength.
Low cost
Good Chemical Resistance to acids and solvents
Electrically insulating,
Higher elongation at break compared
low moisture absorption
Fiber glass Disadvantages:
Poor abrasion resistance
Poor adhesion to some polymer matrix resins,
Lower modulus
Lack rigidity on account of their molecular structure
Conclusion
We have discussed the different types of glass fiber with mechanical properties and their forms. We also discussed the advantages and disadvantages of Fiberglass. If you still have further thoughts on this topic, let us know in the comment section below.