Cast iron is a Ferrous metal which is having iron as the main constituent. All the ferrous metals are extracted from the Pig iron by re-melting the pig iron with coke and limestone in a furnace. There are different types of Cast Iron are available. In this article, we have discussed all the different cast iron types with their compositions.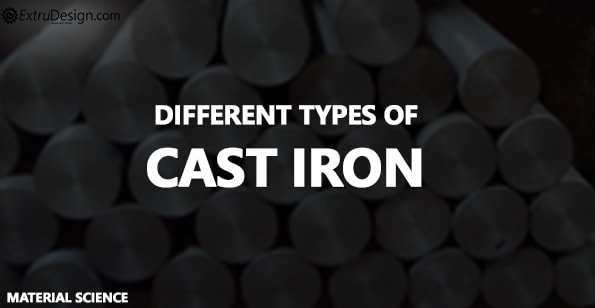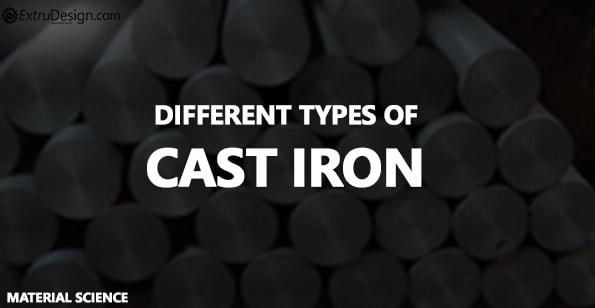 Cast Iron
Cast Iron is a group of Iron-Carbon alloys with carbon ranging from 1.7% to 4.5%. Cast iron is strictly a brittle material so it can not be used to make all kinds of machine elements, therefore, the compositions of the constituents have to be changed to accomplish the different material properties.
Following are the different mechanical properties of Cast Iron.
The Tensile strength of Cast iron = 100 to 200 MPa (∴ 1Megapascals = 1 N/mm2)
The Compressive strength of Cast iron = 400 to 1000 MPa
The Shear Strength of Cast Iron = 120 MPa
General Properties of Cast Iron
Cast irons are a family of ferrous alloys with a wide range of properties, and as their name implies, they are intended to be cast into the desired shape instead of being worked in the solid-state.
Unlike steels, which usually contain less than about 1% carbon, cast irons normally contain 2% to 4% carbon and 1% to 3% silicon. Other alloying elements may also be present to control or vary certain properties.
Cast irons make excellent casting alloys since they are easily melted, are very fluid in the liquid state, and do not form undesirable surface films when poured.
Cast irons solidify with slight to moderate shrinkage during casting and cooling.
These alloys have a wide range of strengths and hardness and in most cases are easy to machine.
They can be alloyed to produce superior wear, abrasion, and corrosion resistance. However, cast irons have relatively low impact resistance and ductility, and this limits their use for some applications.
The wide industrial use of cast irons is due mainly to their comparatively low cost and versatile engineering properties.
Different Cast Iron Types
Five different kinds of cast irons can be differentiated from each other by the distribution of carbon in their microstructures.
Grey Cast Iron
White Cast Iron
Chilled Cast Iron
Malleable Cast Iron
Ductile Cast iron (Nodular Graphite Cast Iron/ Spheroidal Graphite Cast Iron)
| | | | | | |
| --- | --- | --- | --- | --- | --- |
| Type of Cast Iron | Carbon | Silicon | Manganese | Sulphur | Phosphorus |
| Grey Cast iron | 2.5 – 4.0 | 1.0 – 3.0 | 0.2 – 1.0 | 0.02 – 0.25 | 0.02 – 1.0 |
| White | 1.8 – 3.6 | 0.5 – 1.9 | 0.25 – 0.8 | 0.06 – 0.2 | 0.06 – 0.2 |
| Malleable (Cast White) | 2.0 – 2.9 | 0.9 – 1.9 | 0.15 – 1.2 | 0.02 – 0.2 | 0.02 – 0.2 |
| Ductile | 3.0 – 4.0 | 1.8 – 2.8 | 0.1 – 1.0 | 0.01 – 0.03 | 0.01 – 0.1 |
1. Grey Cast Iron
The grey cast Iron is having a graphitic Microstructure and it is in a grey colour due to the presence of graphite.
Grey cast iron is very poor for the tensile strength and having high compressive strength.
It does not have the ductile capability.
Grey cast iron is commonly used for making the sliding components due to the graphite structure acts as a free lubricant itself.
There are seven grades available in grey Cast Iron (acc. Is: 210-1993)
Used to make flywheels, Cylinder blocks, housings, machine tool bodies.
2. White Cast Iron
The white cast Iron won't have the graphite so it looks white in colour due to the absence of graphite and carbon is in the form of carbide (cementite).
It has the high tensile strength and very poor compressive strength.
Due to its hardness machining is difficult with the ordinary tools.
Used to make Car Wheels, Rolls for crushing grains, crusher plates for Jaw crushers.
3. Chilled Cast Iron
It is a white cast iron produced by quick cooling of molten iron. This quick cooling is called as the Chilling and the cast iron produced called as Chilled cast iron.
4. Malleable Cast Iron
Malleable cast iron is produced from the white cast iron. Malleable cast iron can be produced by graphitizing or oxidation and decarbonization of white cast iron. Then the chemical composition and the metallographic structures will be changed to attain malleable cast iron from the White cast iron.
Malleable cast iron has high tensile strength than the grey cast iron and having excellent machining qualities.
There are three basic malleable cast irons are recognised. they are

blackheart malleable iron
whiteheart malleable iron
pearlitic malleable iron

Used to make Railway rolling stock, brake supports, door hinges, locks.
5. Ductile Cast iron
Ductile cast iron is known for High strength cast Iron. Also known as Nodular Graphite Cast Iron/ Spheroidal Graphite Cast Iron.
This Ductile cast iron can be obtained by adding the Magnesium up to 0.1% to 0.8% to the grey cast iron.
Due to this Magnesium in the ductile iron, it improves the high fluidity, castability, tensile strength, Toughness, wear resistance, weldability, machinability.
Used to make cast products such as the hydraulic cylinders, cylinder heads, rolling mill rolls, centrifugally cast products.
These are the different cast iron types.
Conclusion
Do you know how do these compositions affect the properties of each cast iron type? by adding the different impurities like sulphur, silicon manganese..etc to the cast iron to improve the mechanical properties of the materials.