The main function of the Governor in the IC Engines is to regulate the mean speed of the engine when there is a variation in the load. But there the flywheel is used to control the fluctuations of the speed during each cycle. It should not be confused with the governor function. Let's discuss some more details on the Governor in the Engines.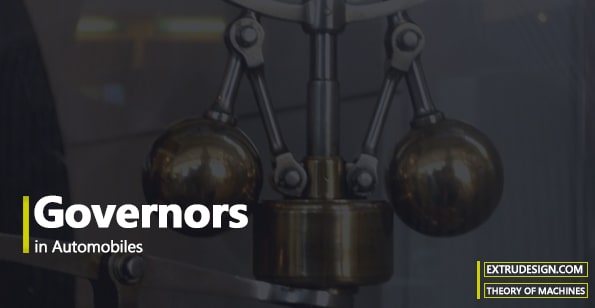 Governor in Engine
As we said it regulates the mean engine speed when there is a fluctuation of the load on the engine.
Consider the governor is not present in the engine, then if there is a huge load on the engine then the speed of the engine will reduce due to the same amount of the fuel input will be supplied. vice versa the speed will increase with less amount of load on the engine. to maintain the mean speed for all the time we have to regulates the correct amount of fuel.
So what does this governor exactly do?
The Governor automatically controls the supply of the fuel to the engine according to the load on the engine by maintaining the speed at certain limits.
But how does it even do that?
The most popular types of governors are the centrifugal governors which workes based on the balancing of the centrifugal force.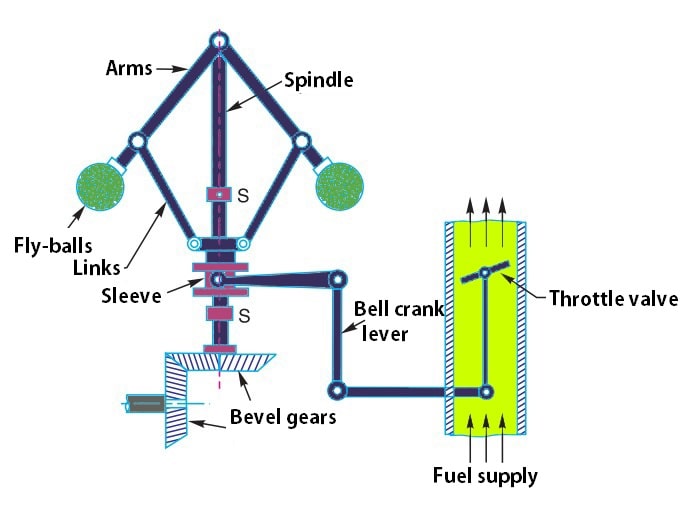 The centrifugal governors consist of two balls of equal mass, which are attached to the arms as shown above diagram. These balls got a name governor balls or the fly balls.
These balls will be revolving around the spindle which is driven by the engine.
As you can see the above schematic diagram of a typical centrifugal governor, there are links joined to a sleeve where it can translate on the spindle freely.
A bell crank lever is connected to the sleeve and the other end of it also will be connected to throttle valve located in the fuel supply passage.
As the engine working these balls also revolving around the spindle at a certain speed and maintained at a mean position radially with the speed of the engine due to the centrifugal force.
Whenever there is a decrease in the engine speed due to the load, then the speed of the balls also changes and due to the less centrifugal force outwards, the balls revolve bit lower their means radial position.
Then the sleeve connected by the links will automatically move downwards on the spindle, the bell crank lever opens the throttle valve to pass the more amount of fuel.
This is how the centrifugal governor works. There is another type of governor based on the inertia principle. But these centrifugal governors are most widely used due to their easy principle.
Conclusion
We have discussed what is the function of the governor and how it works. In the next article, we will different types of centrifugal governors types. If you have any further thoughts on this topic, let us know in the comment section below.