The screw is a type of fastener having an external thread(male thread). In this article, we are going to discuss different types of screws and screw head types with their importance and application.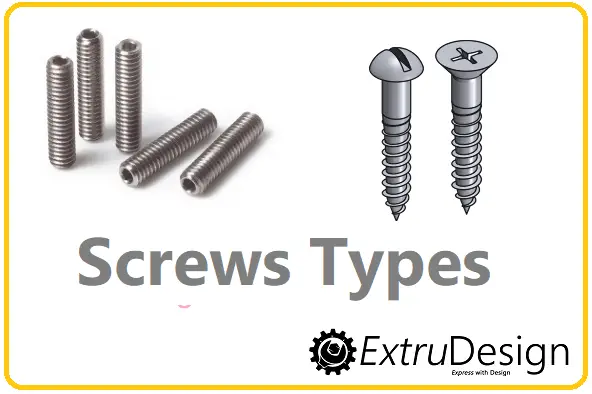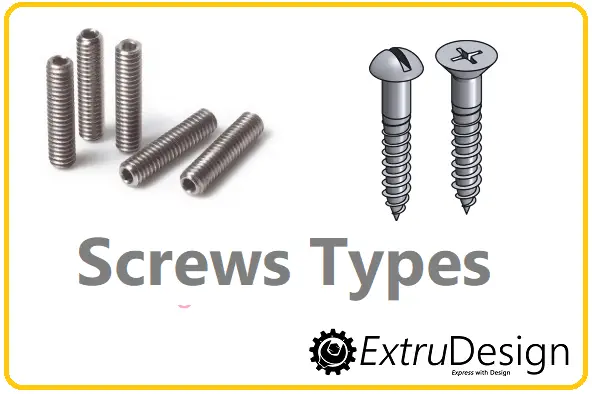 Some threads are designed to mate with a complementary thread, known as a female thread (inner thread), often in the form of a nut or an object having the inner thread formed in that. Other screw threads are designed to cut a helical groove into a softer material as the screw is inserted. There are different types of screws available and discussed below.
Different types of Screws
Following are the different types of screws with their importance in the application.
Wood Screws
A stainless or carbon steel screw for fastening wood. 
Screws with a smooth shank and tapered point for use in wood.
Abbreviated WS.
Machine Screws
It's a fastening device, which has a socket in its head that allows it to be turned with a screwdriver.
Can be used with a nut or tapped hole.
Abbreviated MS.
Thread Cutting Machine Screws
These are self-tapping screws that create threads in existing holes in metal.
Can be used in wood and metal
Abbreviated TC Screws
Sheet Metal Screws
Having threaded shank along with a flat/rounded head.
It can be used to connect thinner metal objects to one another or connect metal to wood, plastic, and other materials.
Abbreviated SMS.
Self Drilling SMS
It can tap its own hole as it is driven into the material.
These Self-drilling screws will drill without first creating a Tap(pilot) hole.
The difference between self-tapping and self-drilling is that self-tappers need pilot holes but self-drills don't need them.
Socket Screws
socket head cap screw/ Socket cap screw is a Cylindrical head and the hexagonal drive hole
Well known as Allen Head, are fastened with a hex Allen wrench.
Used when there is not sufficient clearance for a conventional wrench or socket.
Set Screws
Machine screws with no head for screwing all the way into threaded holes.
Also, known as grub screw.
used to secure two materials together.
Mating Screws
Mating screws have a shoulder that matches the diameter of the sex bolts they are used with.
These are the different types of screws, and there are some others, but all the main types were covered.