With the rise of electric vehicles and a global push towards clean energy, there's arguably no better time than now to take a deep dive into the domain of automotive batteries. Spanning from their humble beginnings as lead-acid powerhouses to the sophisticated lithium-ion variants dominating today's market, automotive batteries have come a long way. This riveting journey has been shaped not only by technological innovation but also by the evolving requirements of an industry treading the tightrope between reliability, performance, and sustainability. As we delve into the crystal balls of leading automakers, we also see the glimmers of promising future technologies and their potential impact on the propulsion of electric vehicles.
Historical development of automotive batteries
Lead-Acid Batteries
The history of automotive batteries dates back to 1859 when French physicist Gaston Plante invented the rechargeable lead-acid battery. The battery became the first practical source of electricity for automobiles, mainly due to its durable and rechargeable nature.
The lead-acid battery employs a chemical reaction between the sulfuric acid electrolyte and the lead plates to produce electricity, which is then stored and delivered to the car's electric circuits when needed. Despite its low energy-to-weight and energy-to-volume ratio, this battery technology continued to be a dominant force in the automotive industry due to its low cost and high surge current capabilities.
NiMH Batteries
In the 1980s, with the increasing need for cleaner, more fuel-efficient vehicles, Nickel Metal Hydride (NiMH) batteries were introduced. They offer a higher capacity and longer life cycle compared to the lead-acid batteries. These batteries work by storing energy in a nickel and metal hydride cell and then converting it to electricity. NiMH batteries are widely known for their use in hybrid electric vehicles, where they played a significant role in improving fuel efficiency and reducing emissions.
Lithium-Ion Batteries
The 1990s saw the advent of Lithium-ion batteries, which have now become the automotive industry's standard for electric vehicles. James Goodenough, Rachid Yazami, and Akira Yoshino pioneered lithium-ion batteries offering high energy density, no memory effect, and only a slow loss of charge when not in use. This battery technology enabled the development of modern electric and hybrid vehicles as it has far superior energy-to-weight ratio, energy efficiency, and life cycle than the previous types.
Impact on the Automotive Industry
Over the years, progress in battery technology has played a key role in redefining the automotive industry. The lead-acid batteries provided the initial thrust to motor vehicles, then NiMH batteries improved efficiency and paved the way for hybrid vehicles. Today, lithium-ion batteries are empowering the shift toward electric vehicles, making it possible to drive long distances on a single charge, thereby reducing our dependence on fossil fuels.
Moreover, the evolution of battery technology has not only revolutionized the automotive industry, but it has also led to innovations in connected car systems, advanced driver-assistance systems (ADAS), and in-car infotainment systems, among others. All of these systems rely heavily on efficient, long-lasting, and high-performance battery systems.
Looking Ahead: Battery Technology Breakthroughs
The landscape of the automotive industry is rapidly undergoing transformation largely due to advancements in battery technology. Forefront technologies such as Solid State and Lithium-air batteries are ushering in a new wave of energy-efficient and environmentally friendly solutions. However, the pace of this transition largely depends on how quickly these new battery technologies can be developed and commercialized. Therefore, the race to innovate in battery technology will indubitably continue to drive progress toward more sustainable transportation options.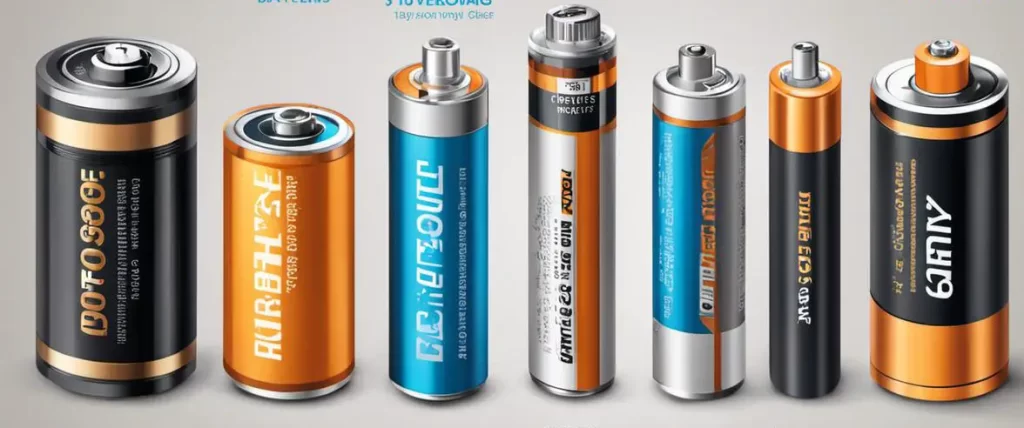 Current state of automotive batteries
Exploring Battery Technologies in the Automotive Industry
As it stands, the predominant battery technology used in the automotive industry is the lithium-ion battery due to its energy density, long lifespan, and increasingly competitive cost. Its high storage capacity, lightweight nature, and durability make it excellent for electric vehicles. However, resource limitations surrounding lithium and the environmental impact of lithium mining, such as water and soil pollution, pose significant challenges. Additionally, the cost and complexity of recycling lithium-ion batteries remain high.
Alternative battery types include nickel-metal hydride (NiMH) batteries, providing ample energy while being robust and overcharge resistant. But, they're heaviness can negatively affect vehicle performance, especially in comparison to the lighter lithium-ion batteries.
The next potential game-changer in automotive battery technology is solid-state batteries. These batteries transition from traditional liquid electrolytes to a solid ones. The promise of higher energy density—thereby increasing the range of electric vehicles—, faster charging times, and improved safety due to reduced risk of leakage, and combustion gives them great future potential. However, they are prone to high production costs and are currently still being developed.
Emerging battery technologies, such as lithium-air and lithium-sulfur, promise even higher energy densities than lithium-ion batteries. But commercial viability is currently hampered by significant challenges related to lifespan and charge cycles.
Within the automotive industry, the aim is to enhance energy storage, durability, and efficiency, and to lower both production costs and the ecological footprint of batteries. Reaching these goals will likely necessitate leaps in battery technology and the creation of more efficient recycling processes.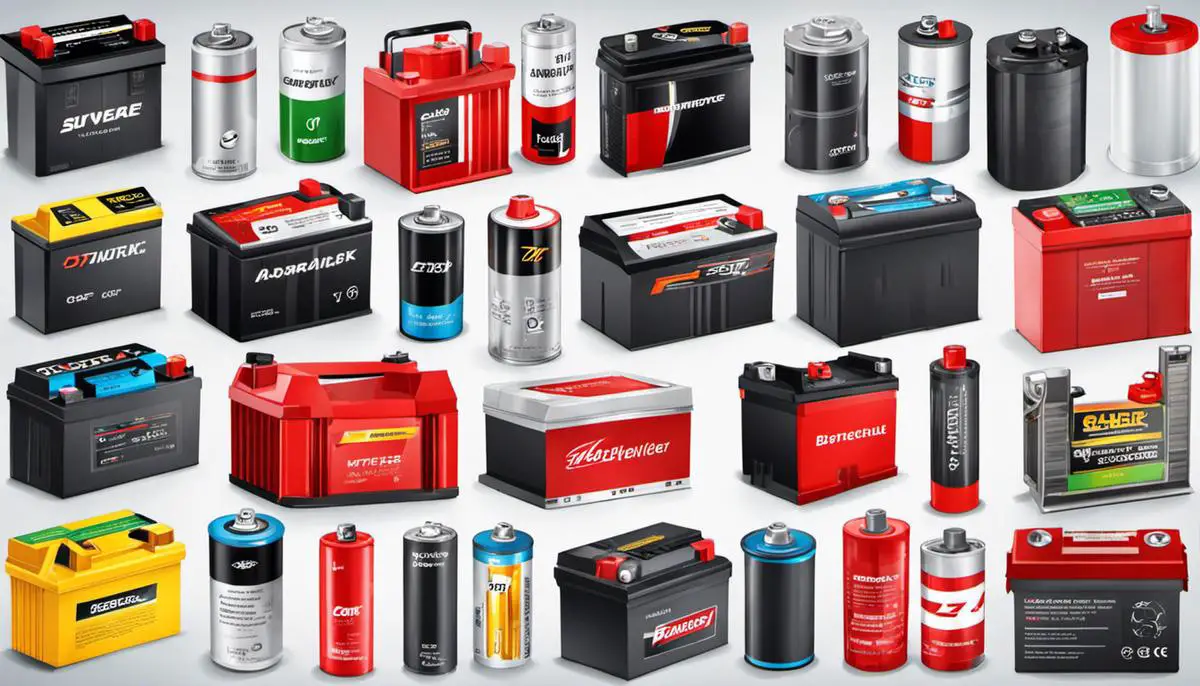 Leading automakers and their battery technologies
Tesla: Innovating Battery Technology in the Automotive Industry
At the forefront of battery technology innovation, Tesla stands tall. The company's progress in this field can be attributed to relentless research & development, fruitful partnerships with other battery manufacturers like Panasonic, and successful efforts to maximize vehicle performance. Currently, Tesla opts for lithium-ion batteries in their electric vehicles, given their longevity, high energy density, and lightweight nature. Additionally, Tesla is focused on refining its Battery Management System to further enhance safety, efficiency, and lifespan of the batteries.
Tesla continues its innovative journey with the recent announcement of the 4680 battery cell during their 2020 Battery Day. With higher energy density, six times the power and a 16% hike in range compared to earlier models, the 4680 battery cell promises a significant leap forward in electric vehicle performance.
General Motors and Ultium Battery Technology
General Motors, another global automotive company, is striving to become a front runner in battery technologies through the development of its proprietary Ultium battery. GM's Ultium batteries use a unique pouch-style cell design, which allows for flexibility in the battery packaging. The Ultium battery system is expected to have a wide capacity range, from 50 kWh to 200 kWh, potentially offering up to 450 miles of electric range on a single charge.
What sets Ultium battery technology apart is GM's partnership with LG Chem, a leading battery producer. Jointly, they have worked on reducing the use of cobalt, an expensive and less abundant element in batteries, resulting in a more affordable and powerful battery pack.
Toyota and Solid-State Battery Technology
To yota, the Japanese automaker, is largely recognized for its hybrid vehicle technology. However, it is also active in battery technology, investing heavily in its research and development. Toyota plans to unveil its game-changing solid-state battery technology in the early 2020s.
Solid-state batteries are viewed as the next big thing in electric vehicle battery technology. They have the potential to provide a higher range, faster charging times, and lower risk of fires compared to their lithium-ion counterparts. If successful, Toyota's solid-state batteries could revolutionize not only their vehicles but the entire automotive industry.
Nissan's Vehicle-to-Grid Technology and xStorage
Nissan, another Japanese automaker, is well known for its Nissan Leaf electric vehicle. However, they're not only focusing on vehicle production but also on the associated battery technology. Nissan has developed an exclusive Vehicle-to-Grid (V2G) system and xStorage solution that allow their electric vehicles not only to consume power but also to store and return it to the grid.
The V2G technology can transform Nissan's electric vehicles into moving energy hubs. The xStorage systems utilize recycled batteries from Nissan electric vehicles, contributing to a sustainable energy ecosystem. This innovation not only ensures the efficient use of electric power but also contributes to the entire electricity grid.
The substantial progress by established automakers in the advancement of battery technologies undoubtedly signals an optimistic future for not only the automotive industry, but also the environmental sector. Integrating newfound technologies into vehicle design will afford and encourage sustainable solutions across the globe.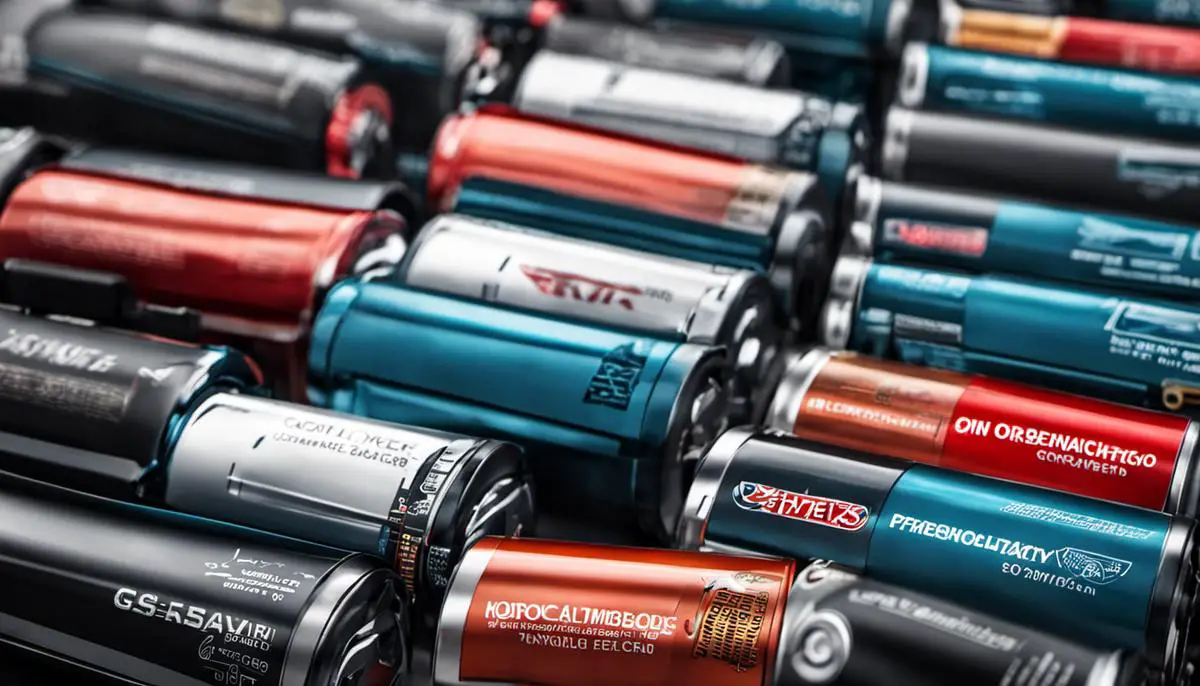 Emerging trends and future technologies in automotive batteries
Solid-State Batteries
One trend spearheading the future of automobile battery technology is the introduction of solid-state batteries. Departing from traditional lithium-ion batteries, which utilize a liquid electrolyte, solid-state batteries employ a solid electrolyte instead. This monumental change injects a number of advantages into the realm of electric vehicles. Most notably, these new type of batteries could heighten energy density, allowing for elongated vehicle ranges. Furthermore, solid-state batteries could decrease charging times drastically, allowing for more efficient use. Lastly, they might bolster safety provisions since they do not run the risk of leakage or combustion as liquid electrolytes do.
Indicative of their promise, solid-state batteries have brought auto-industry heavyweights, Toyota and Ford into the game. Toyota, for instance, has announced that their innovation in solid-state battery technology is nearing a breakthrough and they are anticipating to implement the batteries into their production line by 2025. Likewise, Ford and BMW have collaborated to invest 130 million USD in the solid-state battery startup, Solid Power based in Colorado. These heavyweight alliances strongly suggest the importance and potential that solid-state batteries pose to the future of this industry.
Wireless Charging
Another emerging trend in automotive battery technology is wireless charging for electric vehicles (EVs). The technology, known as inductive charging, uses an electromagnetic field to transfer energy between two coils—a transmitter on the charging station and a receiver on the vehicle. The EV is charged when it is parked over the charging pad, removing the need for plugging in the EV manually, thereby enhancing the convenience of charging.
Companies like WiTricity and Plugless Power are at the forefront of wireless charging technology, and carmakers such as BMW and Mercedes-Benz have even started offering cars with wireless charging capabilities. Furthermore, testing is underway in various countries for implementing wireless charging lanes on highways, where EVs can pick up charge while they are being driven, thus extending the range of EVs significantly.
Repurposing and Recycling of Batteries in the Automotive Industry
The growing prevalence of electric vehicles has posed the unique challenge of managing and repurposing used batteries. Automakers are now exploring ways to repurpose these batteries for applications that demand less power. For example, Nissan has developed a strategy to utilize retired Leaf batteries in street lamps, while General Motors has begun reusing old Chevy Volt batteries to provide power to structures at its Milford Proving Ground.
Concurrently, recycling is increasingly being viewed as an essential component of a sustainable electric vehicle ecosystem. Most typical recycling methods focus on the extraction of valuable metals, often resulting in the incineration or landfilling of other components. Yet, progressive companies such as Li-Cycle and Redwood Materials are shifting this narrative, employing advanced recovery techniques that salvage over 95% of a battery's components—including precious metals and lithium—for use in new battery production. This approach not only fosters sustainable practices but also strengthens the supply chain for ongoing battery production.
Effects of battery technology on electric vehicle (EV) adoption
Advancements in Battery Technology and Its Effect on EV Range
The adoption rate of electric vehicles has been heavily influenced by advancements in battery technology, specifically in relation to vehicle range. Historically, the limited distance capabilities of electric cars served as a key hurdle in their journey to mainstream acceptance. However, through considerable improvements in technology, primarily in lithium-ion batteries, this limitation has been substantially mitigated. Lithium-ion batteries currently power most electric vehicles and have seen drastic enhancements in energy density. This increase in energy density allows for further travel on a single charge, rendering electric vehicles an increasingly attractive option for consumers.
Battery Cost and Its Impact on EV Adoption
Cost is another crucial factor in the adoption of electric vehicles. Traditionally, electric vehicle batteries have been expensive to produce due to the high cost of raw materials and complex manufacturing processes. However, as battery technology advances and production scales up, the cost of batteries is coming down. This is leading to a reduction in the overall cost of electric vehicles, making them more affordable for the average consumer. Today, the cost of batteries accounts for a significant portion of an electric vehicle's total cost, but it is expected to decrease in the coming years as battery technology continues to improve.
Battery Technology and Charging Infrastructure
Charging infrastructure is another element substantially impacted by advancements in battery technology. Earlier electric vehicle models required long charging times, which posed a significant inconvenience for those without access to overnight home charging. The development of faster charging battery technologies has allowed for the proliferation of quick charging stations, making electric vehicle ownership more feasible even for individuals living in urban apartments or other dwellings without dedicated charging resources. Furthermore, improvements in battery technology that allow for faster power uptake can also minimize the time spent at public charging stations, further enhancing the convenience of electric vehicle ownership.
Consumer Attitudes toward EVs and Batteries
Battery technology advances also affect consumer attitudes towards electric vehicles. As battery life span increases and charging times decrease, more consumers might find electric vehicles a viable alternative to conventional gasoline-powered vehicles. In addition, enhanced battery safety features and the potential ecological benefit of fewer battery changes can also positively sway consumer perspectives.
Conclusion
In conclusion, battery technology plays a pivotal role in the widespread adoption of electric vehicles. Advances in areas such as energy density, cost, charging infrastructure, and consumer sentiment directly impact the attractiveness of electric vehicles to the general public. With ongoing research and development in battery technology and more manufacturers focusing on electric vehicles, these factors are likely to continually improve in favor of electric vehicle adoption.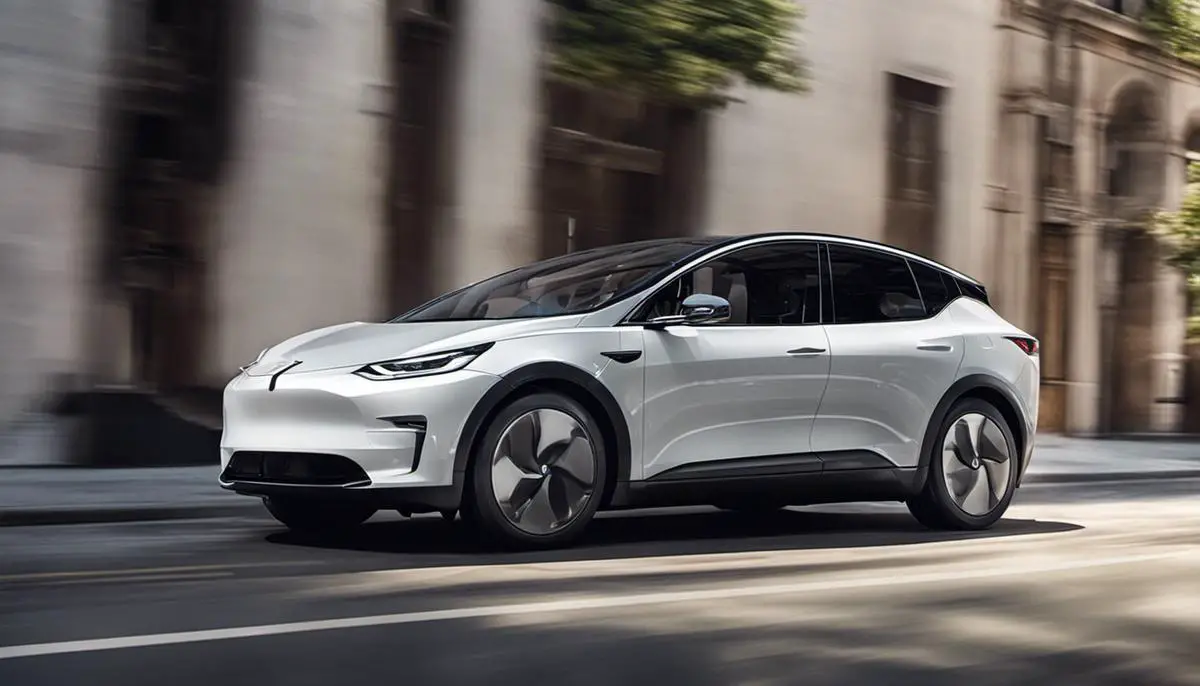 Advancements in automotive battery technology are inextricably linked with the growth and adoption of electric vehicles across the globe. As battery performance continues to improve, factors such as range anxiety, cost concerns, and lack of charging infrastructure gradually fade into the background. Ultimately, it's not all about the destination, but the journey, as we witness history in the making with the kind of charging that doesn't just power cars, but the momentum of a cleaner, greener future. Shining a light on these crucial developments, we hope this exploration has offered valuable insights into the dynamic landscape of battery technologies and their profound role in transforming the automotive industry.