A final year project on "Impact Of Motivational Incentives On The Performance Of IT Industry" was submitted by Raj Nandini Singh (from Galgotias University Greater Noida, Uttar Pradesh) to extrudesign.com.
| | | |
| --- | --- | --- |
|     | University: | Galgotias University Greater Noida, Uttar Pradesh. |
|   | Project Title:  | Impact Of Motivational Incentives On The Performance Of IT Industry |
|   | Submitted by:  | Raj Nandini Singh |
|   | Authors: | Raj Nandini Singh, Ramvijay Chauhan |
|   | Supervised by:  | ARVINDAR |
|   | Department: | Bachelor in Business Administration |
|   | Academic Year: | 2021-22 |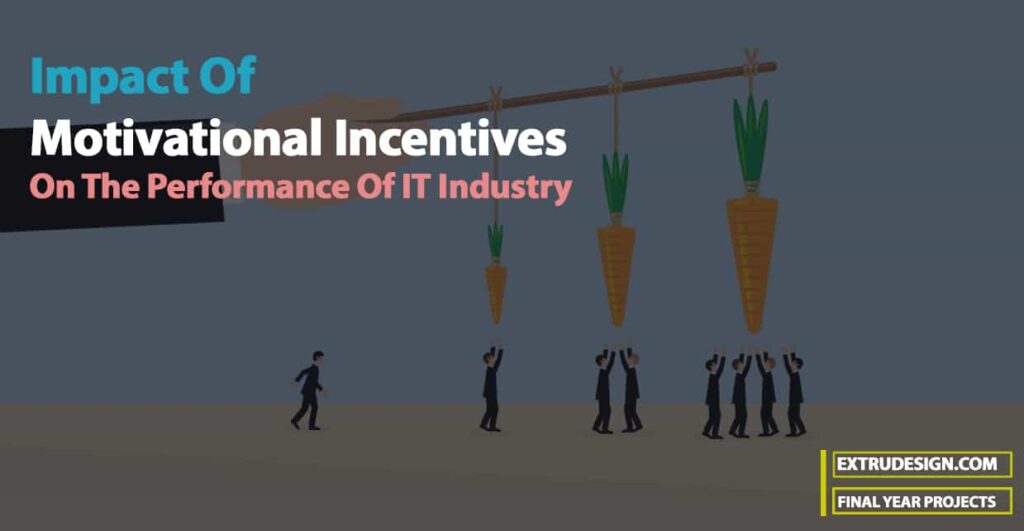 Abstract
This research was done to examine the motivational incentives for employee performance. This was carried out to check the effectiveness of motivational incentives on employees' performance in the IT industry. Managers spent a great deal of time motivating employees in different ways. Some appreciate their work, including employees in goal setting and developing healthy relationships. The most effective way is by giving incentives whether monetary or non-monetary.
The biggest challenge standing in Front of organizations is to make all the employees contribute to the success of the organization in an ethical way.
The main purpose of the study is to show the impact of incentives on employees' performance.
There are three main objectives:
Incentives work towards achieving goals
Incentives help in retention
Effect of incentives on employee's performance
The study reviewed literature written by several scholars about the impact of motivational incentives on employees' performance in the IT industry.
The research used qualitative and quantitative methods to obtain data. In this research random sampling was done as well as questionnaires were given to the employees. The data which is obtained in this study has been analyzed and interpreted.
Finally, the positive impact which incentives have on employee performance has been discussed. The research concluded that incentives play an important role in boosting employees' performance. It helps to increase their morale.
1. Introduction
This chapter begins with a background of incentives and their relation to employee performance. It highlights the issue that motivated the researcher to choose this topic and defines the problem statement, objectives, purpose of the study, and its scope.
 Background of the study
Motivation is derived from the word 'motive' meaning desires and needs within the individuals. It stimulates people to work accordingly to achieve their goals. Everyone needs to be motivated to achieve something. The same goes for employees in the organization. Effective motivation is necessary for the success and productivity of organizations. Without motivation, employees cannot perform up to the needs and expectations of the organization. Employees are motivated to get as much as the outcome the organization needs. To motivate a person's organization, try several methods to keep them motivated. One of those methods is incentives.
Incentives are tangible and intangible which motivates one to work hard to achieve a goal. The main purpose of the incentive is to closely link employee bonuses to their results. This link is done by providing more compensation for better performance. The individual will generally strive for additional rewards from greater production and his performance depends on greater efforts. Some people may prefer a little more free time rather than more money.
The incentive provides additional compensation to those employees who perform well. It tries to link additional compensation as directly as possible to employee productivity.
Additional incentives are financial benefits paid to workers in recognition of their outstanding performance. It is defined as "a variable reward awarded according to differences in the achievement of specific outcomes".
Incentives mean additional benefits to the employees in return for their performance. It spurges the motivation of employees. It is human nature that they will not work unless and until they get something in return. Therefore, they hope that they will be rewarded as a powerful incentive to motivate employees. Incentives are two types monetary incentives and non-monetary incentives. Monetary incentives are the benefits one gets in the form of money. Money satisfies social as well as psychological needs. Therefore, in many organizations wage plans and bonus schemes are provided. The second is non-monetary benefits, it satisfies the ego and self-actualization needs of employees. Incentives that cannot be measured in terms of money come under non-monetary benefits. They are the security of service, praise or recognition, promotion, etc.
According to the incentive theory of motivation proposed by B.F. Skinner states that if an action is positively accepted, a person is more inclined to undertake it, and if an action is adversely received, he is more likely to avoid it. The Incentive Theory is believed to differ from other motivation theories in that it regards the stimulus as something that draws a person to it rather than something that motivates a person to diminish or eliminate it.
People, according to agency theory, are utility maximizers. Individual motivation, according to agency theory, is purely based on self-interest, which is a function of income and leisure. As a result, agency theory proposes that people will only put forth effort on projects that improve their economic well-being in some way.
According to Expectancy Theory People act in ways that maximize expected happiness with results. The expectation hypothesis recognizes that people value things differently. People are more likely to act in ways that result in rewards that they value. Theoretically, motivation is determined by two factors: the expected link between effort and outcome and the attractiveness of the reward. People are more motivated when there is a clear dependency between performance and reward, according to the expectation theory.
IT Industry is one of the vastest industries comprising services of consulting and outsourcing. This industry consists of millions of employees. The Retention Rate is not quite good for the past few years. IT industry employees' workload is more than in any other industry. It is quite hard for them to be motivated all the time. The IT industry focuses on its employees and trains them according to their objectives. It makes them more knowledgeable, skilful, skilful, and talented and hence retaining them. Nowadays due to technological advancement and increasing competition, the IT industry needs to motivate its employees to decrease their turnover and retain the best ones in the IT industry.
Problem Statement
One of the greatest challenges an organization is facing is to keep all the employees motivated. IT industry employees face several problems nowadays due to their long working hours. Due to all these problems, organizations need to focus on their employees. They have to treat the employees as an asset, not a liability. It is noticed that there are many problems associated with the motivation of employees towards their performance as a team and as an individual. Long working hours, eye problems, reduced social life, less physical activity, etc are some of the major issues. It affects the employee's performance which further affects the productivity of organizations. All these issues played a major role in poor performance. So, it is very important to keep motivating them so that lack of motivation does not become a hurdle to the success of organizations.
Purpose of the study
The purpose of the study is to show the impact of incentives on employees' performance in the IT industry particularly.
Research Objectives
To determine incentives that motivate the employees
To determine the effectiveness of motivational incentives on the productivity of the IT Industry
To establish the effectiveness of motivational incentives on employee retention.
Scope of the study
The geographical and subject scope of the investigation would be considered by the researcher.
Geographical scope
The researcher carried out this research in Noida city. It is present in Uttar Pradesh and has around 50 IT companies currently.
Content scope
The researcher gathered data indicating the relationship between employee motivation and performance in the organization based on the study's topic.
Significance of the study
There is so much competitiveness all around the world, that study was extremely important to the organization. Organizations in many parts of the world are competing for available resources, such as employees. So, to attract the correct amount of employees, the company must project a positive image of employee retention and motivation.
The research contributed to the existing body of knowledge. Because the researchers went into the field with an open mind, the researchers benefited from the research they conducted. As a result, they gained knowledge, experience, and talent in the subject, and grew as an expert in the field. Since meeting people with various levels of experience, expertise, and talent, the researcher has added to his existing knowledge base.
The research has aided students in obtaining their degrees program after graduating from university. To be given a degree program, one must perform a study on a certain issue, go to the field, and come up with thoroughly researched knowledge. To draw the organization's attention to the welfare and interests of its employees, so that it reflects in the delivery of public services. The researcher's abilities, knowledge, experience, and competence level were all improved as a result of the study. The research clarified the meaning and significance of motivation in the workplace. Employees are valued and important to the development of firms, according to the survey.
2. Literature review
Introduction
This chapter consists of the conceptual framework, theoretical framework, and review of related pieces of literature according to the objectives. This chapter discusses the opinions and perspectives of other researchers or individuals about the researcher's chosen topic. The literature is essential because it allows the researcher to dig deeper and explore new facts.
Theoretical Framework
According to Victor H. Vroom's expectancy theory of motivation, which was developed in 1960 by one of the first researchers to study motivation, workers are motivated when they believe that putting forth a high level of effort will result in high performance, and high performance will result in the achievement of desired outcomes. One of the most prevalent ideas of motivation relating to inputs, performance, and results are the Expecting Theory. Expectancy, instrumentality, and valence are the three key aspects that lead to people's motivation, according to this theory.
Expectancy is a person's perception of how much effort it takes to achieve a specific level of performance. The level of anticipation a person has influences whether or not he or she believes that putting in a lot of work leads to a lot of results. People are only motivated to put in a lot of effort at work if they believe their efforts will result in high performance—that is if they have a high expectation.
Instrumentality- is the perception of the extent to which a specific level of performance leads to the achievement of goals. Employees are only motivated to work at a high level if they believe that good performance will result in outcomes like compensation, job security, interesting job assignments, and bonuses, according to expectancy theory. In other words, instrumentality is required for strong motivation: people must believe that they will be rewarded for their great performance. When managers link performance to desired goals, they foster high levels of instrumentality.
The Cambodian immigrants who own, manage, and labour in more than 80% of California's doughnut shops are one example of high instrumentality related to high motivation. High performance, according to these immigrants, leads to a variety of benefits, including income, a comfortable lifestyle, family security, and the autonomy that comes with working in a small firm. Their high instrumentality contributes to their high success motivation.
Valence- refers to the degree to which each of the work or organization's outcomes is desirable. Managers must decide which outcomes have a high valence for them—those that are highly desired—and ensure that those outcomes are delivered when members perform at a high level to drive organizational members. Many employees appear to value autonomy, an interesting work environment, motivated staff, and significant perks in addition to a good salary.
According to expectancy theory- Expectancy, instrumentality, and valence all contribute to high motivation. Motivation is likely to be poor if any of these elements is low. No matter how loosely desired outcomes are related to performance, if a person believes that performing at a high level is practically unattainable, motivation to perform at a high level is extremely low. Similarly, motivation to perform at a high level is low if a person does not believe that outcomes are linked to high performance, or if a person does not seek the outcomes that are linked to high performance.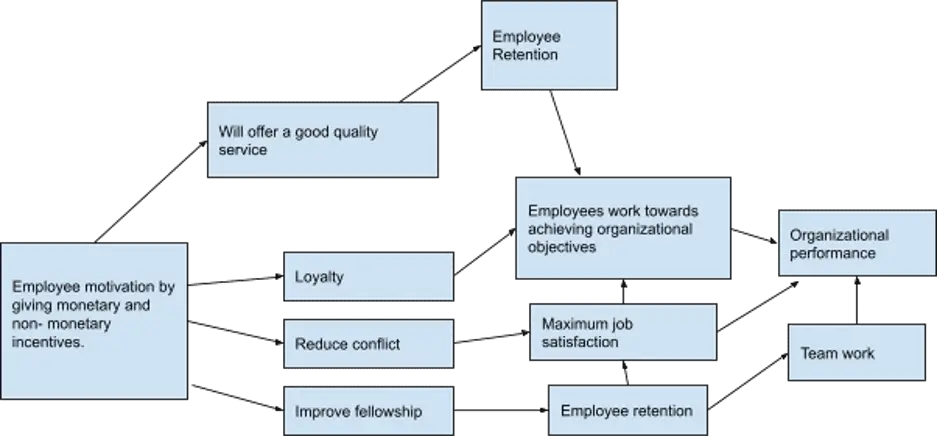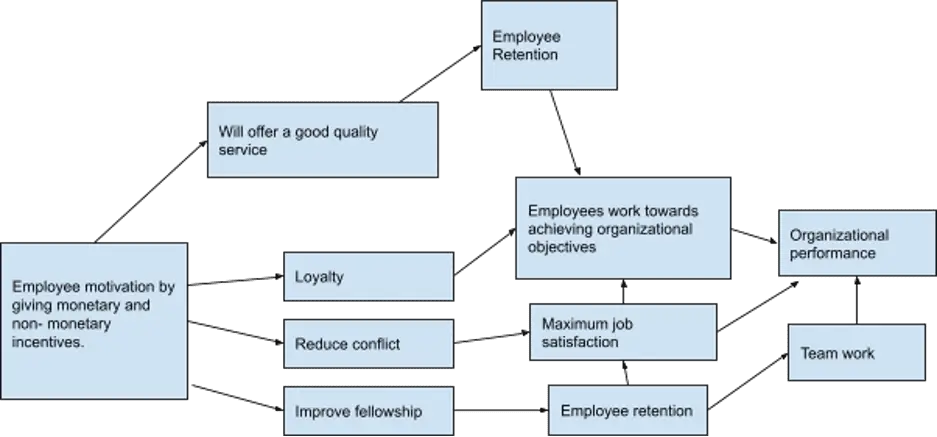 Critical framework
The essential point made in the above diagram is that employees that are motivated will put up a lot of effort to improve their outcome or production rapidly, as well as their product and performance. If employee motivation is done correctly, it will increase employee loyalty, reduce conflict, and improve relationships. It will also increase employee turnover and improve relationships among the workforce, which will encourage teamwork, which will lead to maximum job satisfaction, and employees will work toward achieving organizational goals, resulting in improved organizational performance.
Performance is a predicted variable that is influenced by numerous factors like productivity, quality, innovation, and customer responsiveness. These four, according to Robert, are the foundations of organizational performance. Employee motivation provides them with satisfaction, and encouragement improves their relationship with their managers, minimizes their supervision, and raises their efforts to provide high-quality services and goods.
Review of related literature
According to an earlier study, the reward system must be aligned with the organization's design; otherwise, mixed messages are sent. Take, for example, a car firm that designs different working tasks as project assignments for its employees in several divisions. The major goals are that employee compensation must be examined by department managers and decided with the help of a finance manager. As a result, employees will be satisfied and motivated to achieve their functional objectives. All departments, however, must interact and collaborate cross-functionally. Everyone is accountable and responsible for the tasks for which they were employed. Rather than a person who has no understanding of the task completed by the employee, the direct supervisor is related to the incentives that are supplied to the employees. As a result, the employee is motivated to work efficiently to earn rewards. As a result, selecting a leader who will evaluate staff performance is critical.
According to Vroom's theory of expectation, the reward lies in addressing the demands of employees, such as their family's healthcare. Incentives were viewed as a type of reward that was closely tied to employee performance.
Employees perform better when there are greater profits or incentives. Employees are compensated in this system by receiving monetary incentives in addition to their pay. Employees are provided with incentives based on their performance. Extrinsic benefits, according to several studies, are far more motivating to employees nowadays. They will work harder to achieve goals if they have a larger sense of entitlement. Employees are less motivated by intrinsic benefits and are more concerned with monetary payment for their labour.
Expectancy theory by Victor H. Vroom suggests that people put all their efforts into work when they start to believe that it will lead to an increase in their performance, which will eventually increase the chances of them receiving rewards. An increase in these financial incentives enhances employee loyalty, which increases the employee's performance and reduces the turnover rate. Employees can be loyal to the organisation when their desires are being satisfied by organizations. The organization pays heed to these things, as they also believe humans are an asset and that they need to fulfil their needs to utilize their skills. In the hierarchy of needs, Maslow concluded that humans have five basic wants (physiological, safety, self-esteem, and self-actualization), which can be satisfied through financial incentives and rewards. Employees who are recognized by their employers increase their self-esteem and, as their needs will be fulfilled, they will experience increased job satisfaction as well.
3. Research Methodology
Data Collection
Sources of Data-
Primary Data- it is collected for the first time. Data is collected by the original researcher. In this study, data is collected through a questionnaire.
Secondary Data- Researchers have gone through several previous studies related to this particular study.
Research Design-
A descriptive design is one in which the researcher is interested in characterizing the circumstance or subject under investigation. It's a data-driven, theory-based design process that involves acquiring, analyzing, and presenting data. It tells how and when research is conducted.
Data collection instrument- A questionnaire was used as a data collection instrument Sample Size- 61 respondents (employees of the IT industry) as the sample size.
Tools used for Data Collection- Self- prepared questionnaire was used to evaluate the effectiveness of motivational incentives in the IT industry.
4. Data Analysis and Interpretation
Analysis of the survey is as follows-
1) What is your Age?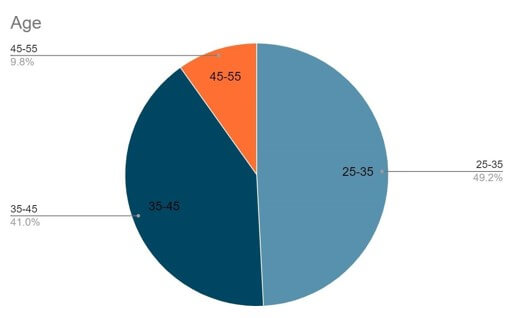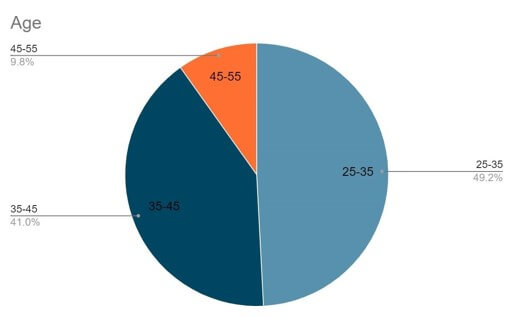 The respondents of our survey include various age groups. More respondents were from 25 to 35 age.
3)What is your Gender?
We tried to collect data from all the genders to understand what they think about motivational incentives.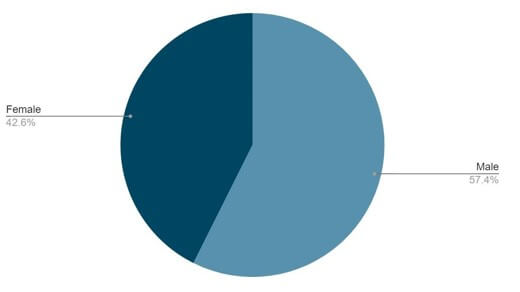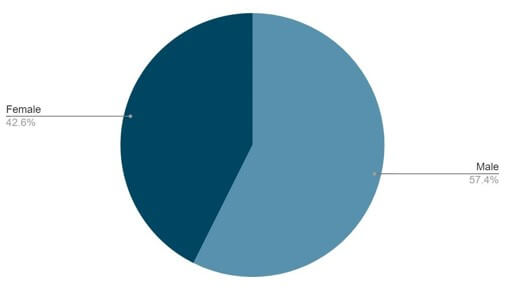 4)The salary increments are given to employees who do their jobs very well and motivate them.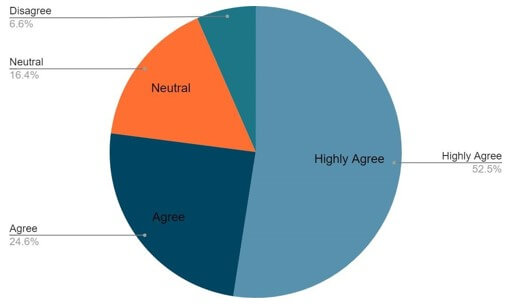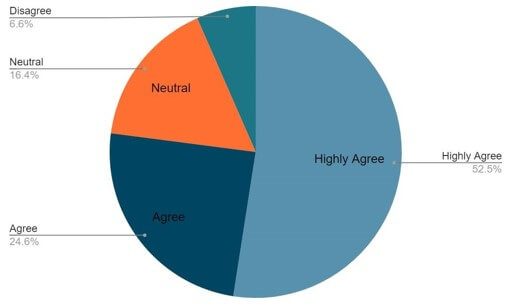 This response shows that the majority of employees highly agree that salary incentives promote motivation among employees. It increases confidence and encourages them to do their job well.
5. Motivational incentives have a long-run impact rather than other motivational methods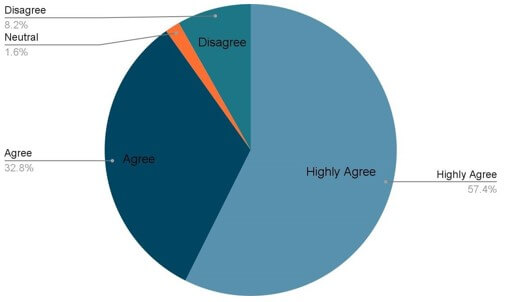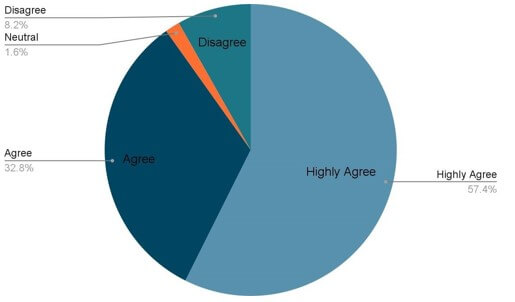 57% of employees are sure that motivational incentives are more effective than other motivational programs. It is clear that to increase the motivational level of organization motivational incentives should be the first preference.
6) Monetary and non-monetary incentives increase the productivity of the IT Industry
According to the responses, the incentives increase the productivity of the organization. Motivational incentives increase the morale of employees in turn employees work hard to increase the productivity of the organization. They try their best to achieve the goals of the organization to achieve the incentives.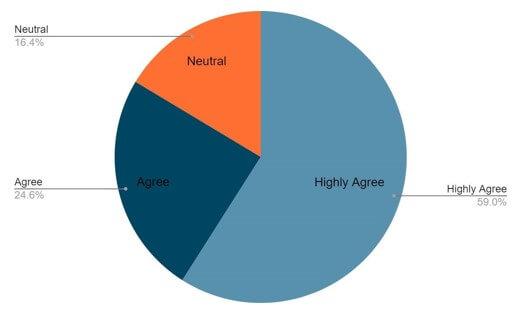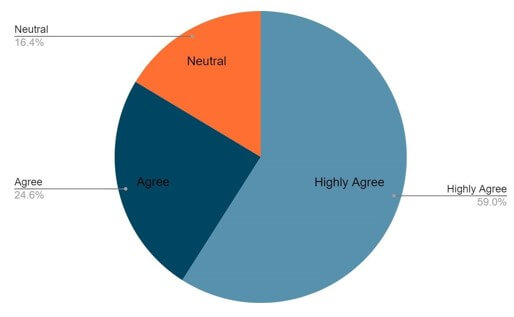 7) Incentives help to increase employee retention in IT Industry.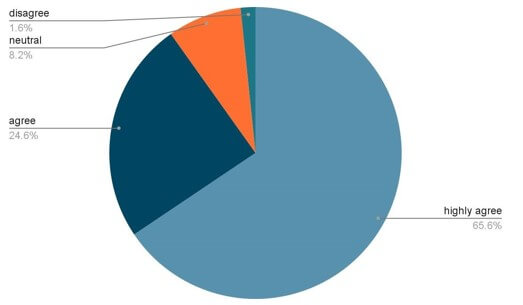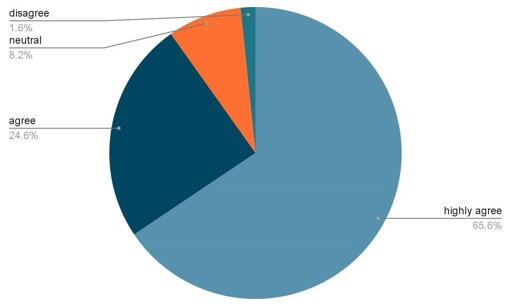 IT industry employees believe that incentives help in employee retention. The organization that gives its employees proper rewards for their hard work, employees remain loyal to the organization. Thus it helps to increase employee retention rate and decrease turnover of employees.
8) Motivational incentives help the IT Industry attract higher quality employees.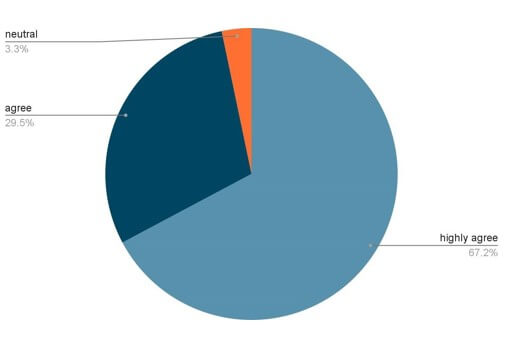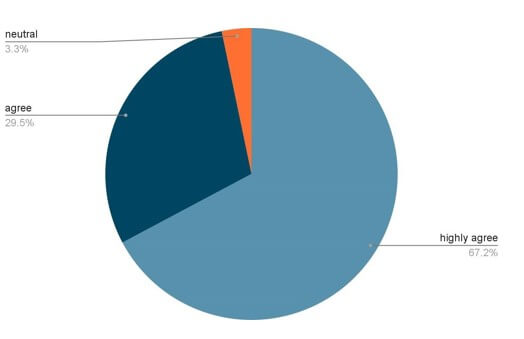 67% of employees believe that incentives help the IT industry to attract high-quality employees. Industries that offer properly structured incentive programs attract more employees than other organizations. Employees feel valued and it increases job satisfaction.

5. Conclusions and recommendations
Conclusions
Employees feel motivated if they are given salary increments or other forms of incentives for their hard work towards the goal of the organization.
Motivational incentives have a long and firm impact rather than any other type of motivational method
Motivational incentives whether monetary or non-monetary increases the productivity of the IT Industry.
Incentives increase the employee retention rate in the IT industry and decrease the turnover
Well, structures incentives systems attract talented employees to the IT companies.
Recommendations
Incentives play an important role to keep employees motivated and working towards the goal of the organization. The IT industry should revise its incentive plan from time to time and it should be well structured. An incentive plan should be followed by every organization. Incentives should be kept as the first preference above any other motivational methods. The motivation of employees should be kept the priority for any organization. Giving rewards to your staff can drive them to not only do their jobs but also to remain longer at the company. These benefits may be the reason customers opt to stay with your firm rather than go elsewhere. Incentives are an effective method to keep employees motivated to accomplish their jobs to their full potential. They will give their best to work towards when you give them something as a reward they can get if they hit a certain target or accomplish something.
References
Frontiers | The Impact of Incentives on Job Performance, Business Cycle, and Population Health in Emerging Economies | Public Health (frontiersin.org)
(PDF) The Impact of Incentives on Job Performance, Business Cycle, and Population Health in Emerging Economies (researchgate.net)
(PDF) THE IMPACT OF BONUSES AND INCREMENTS ON EMPLOYEE's RETENTION (researchgate.net)
Credit: This Project on "Impact Of Motivational Incentives On The Performance Of IT Industry" was completed by Raj Nandini Singh, Ramvijay Chauhan under the supervision of ARVINDAR from Galgotias University Greater Noida, Uttar Pradesh.