Carbon fiber is also sometimes called as the Graphite Fiber. It is an advanced fiber material, Synthetic, and inorganic in nature.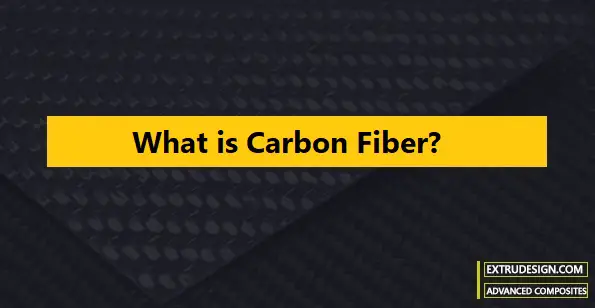 Carbon Fiber
History
In 1860, Joseph Swan produced carbon fibers for the first time, for use in light bulbs
1879 when Thomas Edison baked cotton threads or bamboo silvers at high temperatures, which carbonized them into an all-carbon-fiber filament
By 1958, high-performance carbon fibers were invented just outside of Cleveland, OH, (Union Carbide)
Carbon/ graphite fibers are the predominant high-strength, high-modulus reinforcement used in the fabrication of high-performance polymer-matrix composites.
The term "graphite fiber" is used to describe fibers that have a carbon content in excess of 99%, whereas the term "carbon fibers" describes fibers that have a carbon content of 80-95%. The carbon content is a function of the heat-treatment temperature.
Carbon fibers are made of thin, strong crystalline filaments of carbon that is used to strengthen the material. Carbon fiber can be thinner than a strand of human hair and gets its strength when twisted together like yarn. Then it can be woven together to form cloth and if needed to take a permanent shape, carbon fiber can be laid over a mold and coated in resin or plastic.
The noticeable thing for the carbon fiber are listed below
Carbon fibers are high in stiffness
Carbon fibers are high in tensile strength
And it Has a low weight to strength ratio
Also very high in chemical resistance
These carbon fibers can be temperature tolerant to excessive heat
And has a low thermal expansion
But these are very expensive
Because of this, carbon fibers are very popular in many industries such as aerospace, automotive, military, and recreational applications.
How Carbon Fiber is made?
Materials
Carbon fibers are made using one of the three precursor materials: polyacrylonitrile (PAN), pitch, and rayon
Polyacrylonitrile (PAN), also known as polyvinyl cyanide and Creslan 61, is a synthetic, semi-crystalline organic polymer resin, with the linear formula (C3H3N)n.
Pitch is a viscoelastic material that is composed of aromatic hydrocarbons, Pitch is produced via the distillation of carbon-based materials, such as plants, crude oil, and coal
Rayon is a manufactured fiber made from regenerated cellulose fiber.
Procedure
Carbon fibers are made from a process that is part chemical and part mechanical.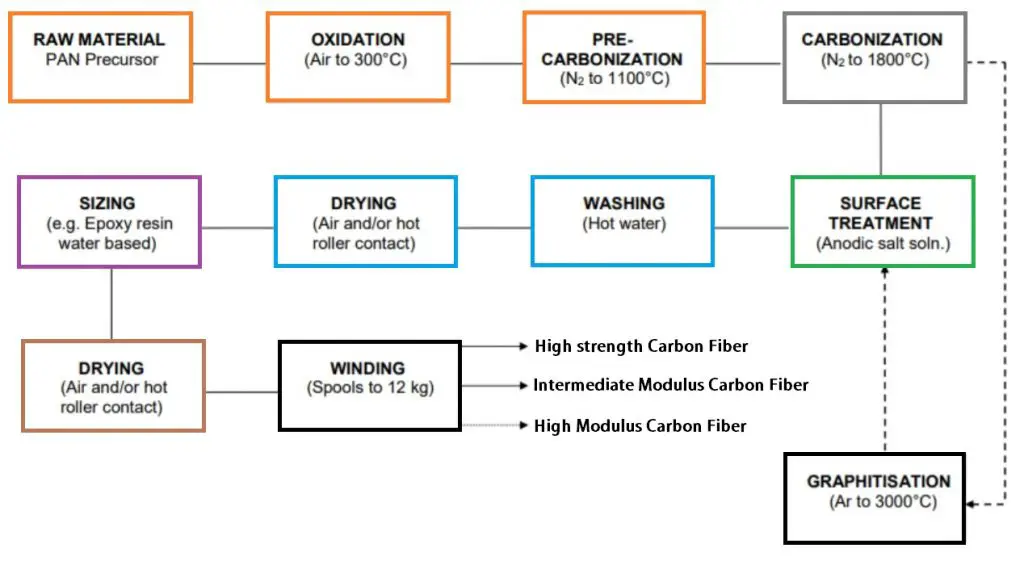 It starts by drawing long strands of fibers and then heating them to a very high temperature without allowing contact to oxygen to prevent the fibers from burning.
This is when the carbonization takes place, which is when the atoms inside of the fibers vibrate violently, expelling most of the non-carbon atoms.
This leaves a fiber composed of long, tightly inter-locked chains of carbon atoms with only a few non-carbon atoms remaining.
A typical sequence used to form carbon fibers from polyacrylonitrile involves spinning, stabilizing, carbonizing, treating the surface, and sizing.
Carbon Fiber Examples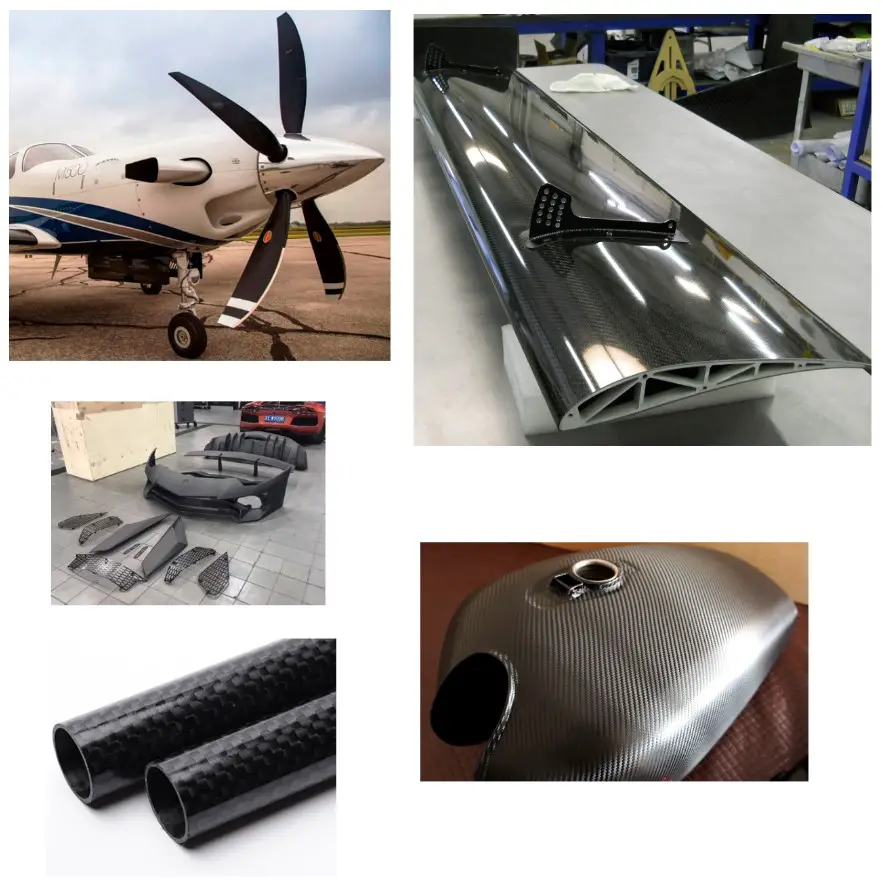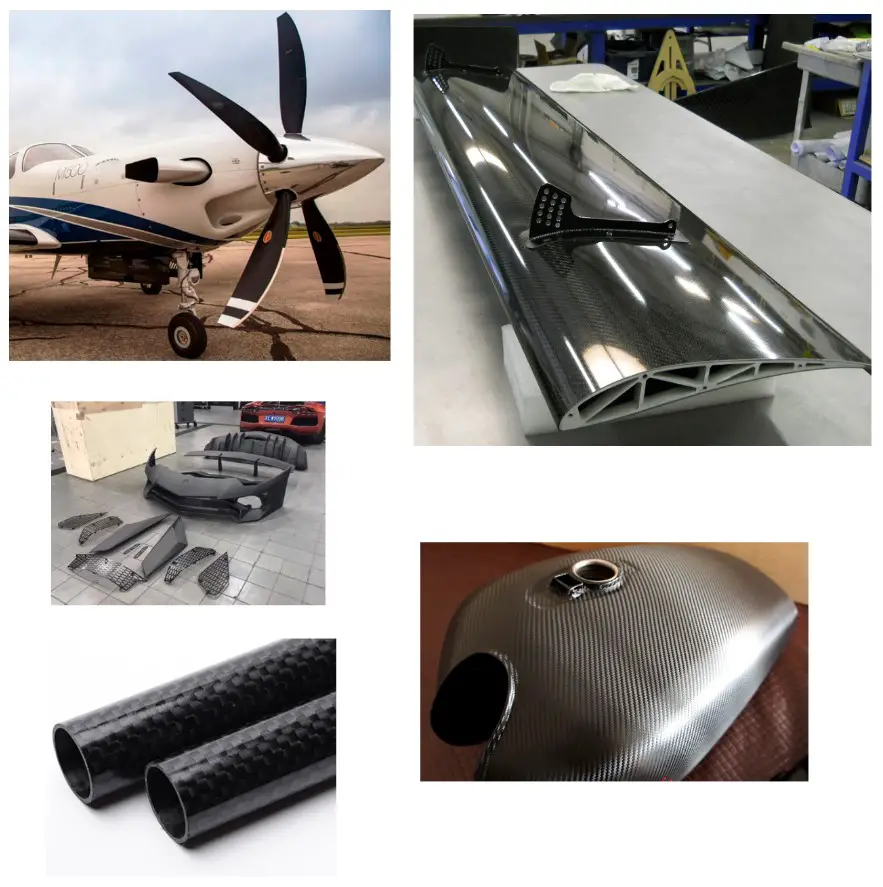 Propeller Blades/Jet engine blades
Car components
Aircraft Wings
Automotive drive shafts & Tubing
Bike frames
Conclusion
We have discussed what is the carbon fiber and how its made. We have also shown some of the example components which are made by the carbon fibers. If you still have any thoughts on this topic, let us know in the comment section.