A final year project on "A Study On Labor Absenteeism With Special Reference To Cryptms Confectioners (India) Pvt. Ltd.Thodupuzha" submitted by Jesteena Joy (from the St Joseph's College Moolamattom) to extrudesign.com.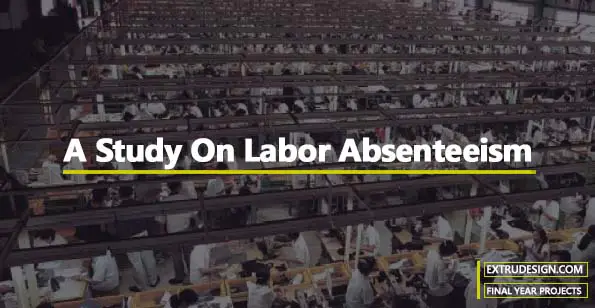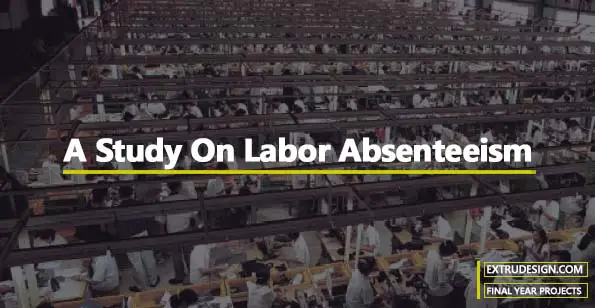 1. INTRODUCTION
"Employee absenteeism is one of the most common workplace problem facing employees in today"s workplace. Legitimate illnesses still account for the majority of employee"s absences, but some studies have shown that less than one –third of absences from the workplace are related to poor health. Most employees offer their worker"s vacation, sick leave, paid time off, or other kind of paid and unpaid leave"
(Resource – HR –Employee-Law)
Human resources are the most valuable assets of an organization. Because all the activities of an organization are initiated and completed by the persons who make up the organization. The effective utilization of all other resources depends upon the quality of human resources. Management consists of guiding human resources in a dynamic and cutting manner to satisfy group objectives. The relevance of employee absence arises in this context.
According to L.F Urwick "business hours are made or broken in the long run not by markets or capital, patent or equipment but by men ". An organization with a low absenteeism rate is an easy way to make substantial profits without huge expenses. Also, it helps in building good images for the concerned.
Absenteeism is a universal problem in the industry and is not peculiar to Indian industries. But the rate of absenteeism has been relatively higher in Indian industries. The extend of absenteeism may differ from industry to industry, place to place, and occupation to occupation. It may also differ according to the makeup or workforce.
STATEMENT OF THE PROBLEM
A motivated workforce is an asset of any organization. Even minor discontent of the workforce can be attributed in general science to dissatisfaction in work and the organization where the work is done. Any problems connected with the human resources assumes paramount significance and it should be treated and handled in a careful sense.
OBJECTIVES OF THE STUDY
To understand the rate of absenteeism in Cryptms confectioners Ltd.
To know the causes and consequences of absenteeism
To suggest measures for reducing labor absenteeism.
SCOPE OF THE STUDY
Labour absenteeism is a universal problem. Excessive absenteeism is harmful to both employees and employers in any organization. It will seriously affect the production and profitability of the concern. As a result of absenteeism cost of production increases.  Moreover, it will increase the work pressure of the employees who are present. Therefore effective measures should be taken to control absenteeism?
This study tries to analyze the extent of absenteeism in Cryptms confectioners (I) Pvt Ltd. Also aims to identify the reasons for the absenteeism. On the basis of the above-mentioned reasons, suggestions for reducing absenteeism is also identified.
SIGNIFICANCE OF THE STUDY
The employees of Cryptms confectioners (I) Pvt Ltd consist of managers, office staff, factory workers, marketing and distribution staff. Delay in transaction or absenteeism of any level of employees may affect the smooth running and flow of the business. It may cause production loss and financial losses. An analysis of the absenteeism rate and causes of that helps the management in implementing better labor welfare facilities. The inner feeling of the employee regarding leave, salary, workload, etc. also can be measured. A thorough investigation about employee-employer relationship, working condition, personal problems, and needs of the employees help to analyses the degree of dissatisfaction and commitment on the part of the employment. The study is to cover theoretical works of labor absenteeism and practical analysis of employees "s behavior in crypts confectioners(I) Pvt Ltd.
RESEARCH METHODOLOGY
For conducting the study both primary and secondary sources of data were used. Primary data was collected from the employees of the cryptms. A sample of fifty employees was selected from a list supplied by the company, which states more absentee workers and least absentee workers. Data was collected by using a structured questionnaire served among fifty employees of the company selected by the manner of the convenience sampling method. The collected data were analyzed using the simple average method and presented graphs, charts, pie diagrams, etc.
LIMITATIONS OF THE STUDY
Few employees" refused to provide information because of their personal reasons or due to schedule.
The time limit was also a constraint while conducting the study.
A sampling method was followed and the result cannot be considered 100% accurate.
CHAPTER SCHEME
The study of Employees Absenteeism in Cryptms Confectioners (India) Pvt Ltd. has been organized and presented in five chapters.
First chapter consists of an abstract of the introduction, meaning, causes, statement of the problem, objectives, methodology, scope, and limitations.
The second chapter deals with a brief profile of the company including past, present, and future plans of the organization.
The third chapter consists of theoretical frameworks. It includes measurements of labor absenteeism, causes of absenteeism, control over the absenteeism, etc.
The fourth chapter contains an analysis of data collected from the organization and its interpretations.
Fifth chapter includes the summary of findings and recommendations.
2. COMPANY PROFILE
In the fast-changing today"s world two things remain unchanged,  one is the children's innocence for one, and the second is their irresistible love for sweets. Same, the demand for sweets especially for eclairs, candies, and toffees is increasing all the time in the global market. Having identified this fact, in 1986, a group of 11 dedicated and enterprising NRIs returned with some sweet dreams and determinations. That creative people discovered the scope of confectionery in India and decided to plot " Cryptms Confectioners (India) Pvt. Ltd." In Thodupuzha in Idukki District, an industrially backward district of Kerala.
In the first year of operation, the company had consolidated the sale of 1.8 crores. Started with 10 varieties of eclairs, coffee, candies of different flavors and tastes, the company now produces 68 varieties of confectionery products under different names. Excellent quality and right pricing combination with innovative marketing strategies help to establish Cryptms as a reputed brand in the confectionery market. The turnover of the company now crossed 8 crores.
REGISTERED OFFICE AND FACTORY
Cryptms confectionery (India) Pvt Ltd is located at Thodupuzha a fast-growing municipal town in Idukki District of Kerala. Being an industrially backward district of Kerala where the availability of infrastructure and manpower is plenty-in Idukki. But the marketing department of the company is situated in Kochi.
DIVERSIFICATION AND EXPANSION
The Cryptos Factory at Thodupzha reached to optimum production capacity in 1991- 1995. With the growing demands for the product, the activities of Cryptms have been diversified with the establishment of the following units.
1. BRISTO FOODS (Pvt.) Ltd.
In 1995 Bristo Foods Pvt Ltd. Was formed to produce Crypts brand of confectionery products which is situated near Palakkad. T can produce 3500 pieces of sweets per annum with the brand name "Sweety". The innovative gift padding such as "Happy Birthday" Wedding Bells, Pine Rich, Nutmeg, etc by Bristo Food captured a great position in the market.
2. MEGA HOME PRODUCTS (Pvt.)Ltd.
It came into being in 1993 with the brand name "Crypsy" by using the existing network of Cryptms for manufacturing biscuits of distinct quality and taste. The Crispy products line consists of Glucose, Milk, Arrowroot, Marie, Crypsy Bour, Bone, High Milk, etc.
3. UNIPACK INDIA (Pvt.) Ltd.
Because of the perishable nature of the product, the packaging is an important function in the confectionery industry. Keeping in mind "Unipack India Pvt. Ltd." was formed in 1989 for producing packing material for Cryptms and Crypsy products. Both primary and secondary packing is done by Unipack which will preserve quality and attracts more customers, located at Alappuzha.
4. COMFORT CARTON INDIA (Pvt.) Ltd.
Comfort Carton India (Pvt.) Ltd. is established to meet the needs of the final packing material cartons for the company. The company is capable of producing quality packing material.
5. EFFICIENT MARKETING (Pvt.) Ltd.
The company established an independent and professionally managed marketing organization in the year 1993 namely "Efficient Marketing (Pvt.) Ltd". This company is started in Kochi. The entire marketing of the products of the group is under the responsibility of this company.
EMPLOYEES
The employees of the organization are divided into four categories namely workers in the plant, permanent trainees, office, and administration staff. The organization gives prime importance to the welfare of workers and staff as the development of the organization can be attained through the development of the employees. Promotions of the employees are based on the performance appraisal. There are 500 employees in the company. Two representative boards of workers are formed for the effective functioning of collective bargaining. The registered trade unions are
CITU
BMS
PRODUCTS
Crypts produce 100 tones in a month. Their productivity is to produce 300 tons per month. They are now producing 68 varieties under different names.
Some prominent toffees are chocolate, white eclairs, coffee, nutrient, saffron, and so on. Among these varieties toffees, candies, eclairs give higher profit. Already eclairs are familiar to the people. For enhancing the business operation of the company the Cryptms started a new company in Palakkad namely Bristo from these 24 items and 33 varieties of delicious chocolate products were produced.
Cryptms Confectionery through its associate company mega home products is now entering into biscuit market in introducing Crypsy biscuit in four varieties as Glucose, Milk, Arrowroot, Marie
DEPARTMENT
The various departments are follows
A. PURCHASE AND STORES DEPARTMENTS
This department coordinate the purchase department products of marketing the right production, awarding lead time and analyzes the level of stock, cost reduction and increase profitability.
B. PRODUCTION DEPARTMENT
Production is carried out in plant situated at Thodupuzha. The main raw materials are liquid glucose and sugar. The other ingredients used in the production process are butter, vegetables ghee, milk and it contains details like item code, description quantity, names and price.
C. PERSONNEL DEPARTMENT
The impressive level of productivity is a hallmark of Cryptms. The organization promotes the concept of Participative Management, Total quality Management, Quality Circle, Employee suggestions Scheme and involvement of employees in all endeavors.
D. FINANACE DEPARTMENT
The credit of the organization goes to the finance department. It finds loans for long-term financial requirements from Kerala State Financial Corporation, ODFacility from Canara Bank of financing of working capital. Besides, take unsecured loans from some interested persons.
E. MARKETING DEPARTMENT
Marketing concept holds that achieving organizational goals depends on determining the needs and warms to target market and determining the desired sales more effective and efficiency than competitors.
F. RESEARCH AND DEVELOPMET DEPARTMENT
The company has good R&D department with facility at full-fledged laboratory, for testing raw materials before production. By this the company can find out the complaints that may arise on any product, the company may test and study it.
COMPETITORS
The competitors in the industry are characterized as oligopolies, where there are few sellers or producers and many buyers. In this situation, the process of various brands of products remains somewhat rigid. In this modern era of cutthroat competition, no firm can avoid competition but only can reduce it. Some of the major competitors are Nutrein, Parry, Ruby, Craze, etc. Day by day competition is increasing.
ORGANIZATIONAL STRUCTURE
The organization follows a kind of organization. The authority follows from top to bottom levels of organized hierarchy and the line of responsibility flows in an appropriate but equally direct manner.
Crypt's top-level organization consists of the board of directors, followed by MDs and Executive Directors. The board of directors of formed five members and there is a full-time MD. Cine member from the MD is assigned the power of executive directors which are changed, in each financial year.

PRESENT STRENGTH AND FUTURE PLANS
In national market 500 employees strong network of 200 distributers throughout Kerala, Tamilnadu and Andhra Pradesh. The infrastructure facilities are considered as the best among Kerala based companies. Crypts groups are being financed by Kerala State Industrial Development Corporation, Kerala Financial Corporation, SBI and Canara Bank both for capital investment and working capital requirements.
The group is on the way of fast expansion and diversification and has entered into an expert arrangement with MIS exporters USA and Sigma International for Far East Market foreign collaborations being sought for new products. The basic philosophy hanged by Cryptms Confectioners is the optimum utilization of resources and maximum productivity and efficiency.
CRYPTMS AT A GLANCE
Name and address                :    Cryptms Confectioners (India) Pvt. Ltd. P.B No. 10 Kanjiramattom Road Thodupuzha, Pin -685584
Registered Office                     :              Thodupuzha
Factory                                      :              Thodupuzha
Established in                            :              1986
Subsidiaries                               :              Bristo Foods India Pvt Ltd. Mega Home Producats Pvt Ltd. Unipack India Pvt Ltd.
Cofort Cartons India Pvt Ltd.
Area of Network                        :              Kerala, Tamil Nadu, Andhra Pradesh, Karnataka No, of wholesalers                                :               250
No. of workers                          :              500
No. of products                          :               68
Targeted growth rate                  :               25% per annum
LEAVE RULES IN CRYPTS
A. CASUAL / PRIVILEGE LEAVE
Privilege leave shall in the case of workmen, be granted in accordance with the terms and conditions of service, if any, applicable on this behalf subject to the provisions factors Act 194.
Privilege leave shall be granted at the absolute direction of the management.
Privilege leave shall not be valued of in excess three installments during a year.
Privilege leave shall not be combined with casual leave.
The unveiled leave that may be carried forward to the succeeding year shall not exceed sixty.
Privilege leave cannot normally be sanctioned for less than 5 days.
Casual leave may be granted to workers with wages up to a maximum of 6 days and without wages up to a maximum of 5 days, per year, at the direction of the sanctioning authority. Workmen shall await themselves of leave only after it has been sanctioned.
Workmen who desire to obtain leave of absence shall apply in the prescribed form, get the number of days of leave due to him noted in the leave form and submit it to the sanctioning authority.
Except in emergency application for leave for three days or less should reach the sanctioning authority at least 24 days prior to the time from whom the leave is required.
Application for the leave for more than 3 days but less than 7 days shall be made at least 3 days in advance and if it is for 7 days more, the leave application should be made at least 15 days in advance.
The above rule will not be strictly applicable to leave on account of any unexpected emergency, or to sick leave, but in such cases, all effect must be made by the workmen to intimate the fact to the authorities at the earliest possible time. In case of his own sickness, the workmen shall provide a medical certificate from the medical officer not below the rank of an Asst. Surgeon.
Workmen before proceeding on leave shall hand over charge to the superior in charge or to such other person authorized by the sanctioning authority.
Before proceeding on leave worker shall inform the department head or the commercial authority of his address during the period of leave. Communication forward by the company in such addresses shall be regarded as sufficient complaints about the purpose of giving any notice. If no such information is given, the address registered with the company shall be deemed to the address for sending any communication to the workmen.
Casual leave shall not ordinary for more than 3 days at a time.
Workmen who desire to return for duty before the expiry of the period of leave shall get the permission of the authority competent to sanction his leave.
If the exigencies of service so require the authority empowered to grant the leave is also entitled to revoke the leave or any unexpired portion of it and recall the workmen to resume duty.
A workman on leave shall not take any service or accept any employment during the leave period.
B. Medical Leave
Every workman will be entitled to 6 days of sick leave with wages per year. Sick shall be non-accumulative workmen shall produce medical certificate from the company"s medical practitioner or any other registered practitioner in support of his sick leave is so required the management.
If a workman has exhausted all his privilege leave and sick leave towards absent on account of sickness for a long period, the company may in its discretion permit leave without wages for such workman for his absence on amount of sickness.
After the provision of the Employee State Insurance Act and other regulations thereunder are made applicable to the establishment, if workmen do "t report forward on amount of sickness be shall produce a certificate in support of his absence from the Insurance Medical Officer and shall intimate in writing to the management as early as practicable but not later than 48 hours from the commencement his absence from work. The nature of his ailment provable duration of his absence also should be intimated along with the Insurance Medical Officers Certificate.
C.  Extension of leave.
If a workman after proceeding on leave, desires an extension thereof, he shall before the expiry of the sanctioned leave, apply to the authority concerned for the extension of leave who shall send a written reply either granting or refusing the extension of the leave to the workman in his address given in the application. The workman shall await himself of extended leave only if a reply sanctioning the extension reached him before the expiry of the leave originally granted.
If a workman remains absent beyond the period of leave originally granted or subsequently extended, be shall lose his time on his appointment, unless he
Returns within 8 days of the expiry of the leave and
Explain to the satisfaction of the management his inability to on the expiry of such leave.
WELFARE FACILITIES IN CRYPTM
Medical facilities
Rest Shelter
Co-operative stores
Refreshment facilities
Health Service
Entertainment facility
Education
Training
Welfare fund
Uniform
Bonus
Proper lightning & Ventilation
Heat control
Insurance Scheme
Leave facilities
Toilet& Drinking water
Safety measures
Reasonable hours of work & holidays.
Transportation
Recreation
Counseling
3. THEORETICAL FRAMEWORK OF LABOR ABSENTEEISM
LABOUR ABSENTEEISM
Absenteeism is an employee"s intentional or habitual absent from work. While employers expect workers to miss a certain number of workdays each year, excessive absent can equate to decrease the productivity and can have a majority effects on company finance, morally and other factors. Employees are absent from work and thus the work suffers. Absenteeism of employees from work leads to back logs, pilling of work and thus work delay. Simply means employee absenteeism is the absence of an employees from workplace.
Absenteeism has been designed by different authorities in the different ways. Labour Bureau, Simla defined the term "absenteeism" as "the failure of a work to reports for work when he is scheduled to work". According to Webster"s Dictionary, "Absenteeism is the practice or habit of being an "absence" and an absent is one who habitually stay away."
Absenteeism means being absent from work employers may take a leave or not report to work for various of reasons. Some of these may be uncontrollable factors like sickness, emergency, accident, etc.
Absenteeism is two types
a) Innocent absenteeism
Innocent absenteeism is one in which the employee is absent from work due to genuine cause or reason. It may due to illness or personal family problem or any other real reason.
b) Pucupable absenteeism
Pucupable absenteeism is one in which a person is absent from work without any genuine reason or cause. He may be pretending to be ill or just wanted a holiday and stay at home.
MEASUREMENT OF LABOR ABSENTEEISM
The rate of absenteeism may be calculated by the following formula.


Indian Labor Bureau (Simla) measures absenteeism as the percentage between the time loss and the total time scheduled with excludes strikes lockouts, layoffs, authorized vacation, and privileged leave.
Ie.  


  According to



Absenteeism (in a month) =number of absent days in a month/average headcount of employees * number of working days in a month.
PROCESS OF LABOR ABSENTEEISM
Employee's remains absent due to several fact which are given below:
Stress and low morally:
Heavy work load stressful meetings or presentation and feelings of being unappreciated can cause employees to avoid going into the work. Personal stress can leads to absenteeism.
Child care and Elder care :
Employees may be forced to miss work in order to stay home and take care of a child or elder when a normal arrangement has fallen through (for example, A sick caregiver or a snow day at school) of a child or elder is sick
Depression:
According to the National Institute of Mental Health, the leading cause of absenteeism in the United States is depression. Depression can lead to substance abuse if peoples turn to drugs or alcohol to self-medicate their pain or anxiety.
Disengagement :
Employees who are not committed to their jobs, coworkers, and/or the company are more likely to miss work simply because they have no motivation to go.
Illness :
Injuries, Illness, and medical appointments are the most commonly reported reason for missing work (do not always the actual reason). Not surprisingly, each year during the cold and the flu season, there are dramatic spikes in absenteeism rates for both full-time and part-time employees.
Injuries:
Accidents can occur on the job or outsides of work resulting in absence. In addition to acute injuries, chronic injuries such as back and neck problems are a common cause of absenteeism.
Job hunting:
Employees may call in fit to attend a job interview, visit with a headhunter or work on their resumes or CV"s.
Partial shifts:
Arriving late, leaving early and taking longer breaks than allowed are considered forms of absenteeism and can affect productivity and work place morally.
Nature of work :
A worker is likely to be frequently absent when the job is tough and monotonous in a nature. In such a job, the worker gets tired physically and mentally.
Lack of regular leave arrangement:
When there is no regular system for providing a few days leave to worker for personal work, workers remain absent without intimating the employer.
Low level wages:
Wages in some organization are very poor and quit inadequate to meet the basics needs of the employees. Their for employees go for other employment during their busy reasons and earn more money.
Alcoholism and gambling:
Any workers find it difficult to adjust to city life. They acquire bad habits like drinking gambling etc. due to these habits the workers are unable to attend to their work regularly.
Social and Religious ceremonies.
Socialfunctionsdivers" worker from work to social activities. In all organization is highly during local festivals respective of other workers are from there are or not.
poor working conditions:
When the work environment is unsatisfactory, workers are likely to be frequently absent in sanitation, lack of drinking water and canteen facilities, absence of medical aid, poor relation with coworkers and supervisors make the environment unpleasant and create absenteeism.
Poor management system:
When the manger treats worker are mere tools, rate of absenteeism is likely to be high.
In the absence of proper management control workloads shift arrangements and human resource policies may be unbalanced causing absenteeism.
CONTROL OVER ABSENTEEISM
Provision of proper working conditions :
Unhealthy working conditions are the main cause of absenteeism. The workers feel fatigued after a short period of work is there is infanitation, noise, dust, dampness etc. There should be proper facilities at the work like a provision of drinking water, canteen, rest places, inventories etc. So that workers do not feel fatigued at work place.
Proper selection procedure:
Absenteeism may also occur if there is improper selection, training, and recruitment when the workers are no well suited for the job then they will right to absent themselves. The workers should be aptitude training, intelligent test for finding out suitability of the people or employees of the job when they are being selected.
Reasonable wage rates:
The wage rate should be fixed in view of the recruitment of workers. The wages should be sufficient for workers in order to maintain a reasonable standard of leaving.
Proper grievance settlement:
There should be a proper grievance settlement mechanism for the workers. Some time there is a feeling among workers that their difficulties are not properly look into and out of frustration they start absenting from duty. When there is grievance settlement missionary then the cause of this contentment among workers can removed at the earliest.
Prevention of accidents:
They should be a provision for proper safety measures in the factory. There is a direct relationship between absenteeism and accident. The workers should be educated for proper utilization of machines and precautions to be taken on the occurrence of some accidents.
Liberal grant of leave:
The strict attitude of management in granting leave may also leads to absenteeism. When there are pressing need for leave and management is not responsive then workers will remains absent. So management should be liberal in granting leave when workers have genuine reason for availing leave.
Coordinate relation at work:
The   strained   relation   between   superiors   and   workers   may   also     prompt absenteeism. The supervisors should have cooperative attitude towards workers.
They should motivate workers for improving their performance and should not indulge in frequent criticism of workforce working under them.
Maintaining discipline:
There should be well defined rules and regulations for achieving work requirement. There should be well laid leave rules and these should be properly followed is from workers are in the habit of coming late or frequently absent other employees may be encouraged to violate rules and regulations.
ABSENTEEISM IN INDIA.
Absenteeism is a universal problem but the rate of absenteeism has been relatively higher in India as compared to china, japan, and USA.Absenteeism is one of the real challenges in the Indianindustry. Absenteeism cause production lost as well as also cause reduction of gross national income, in the gross wage of labours reduces normally his purchasing capability additionally reduce if he or she could not deals with the essential and optional needs of timely and properly. He is or she needs to face like poor harmony, more mental and physical tiredness which will again leads to absenting from the work. Research studies conducted by Sri Ram Center for Industrial Relation, Employers Federation of India and the national productivity council reveals the following peculiarities of absenteeism in India.
The rate of absenteeism has been more than 10 percentage.
A small percentage of employees (15%) account for a large percentage (70%) of the total absenteeism.
In India absenteeism due to sickness was highest in July, September and lowest in April, June.
Absenteeism has been grater in night shifts than day shifts.
Absenteeism is generally higher in the department where supervisors are work oriented and careless for employee welfare.
The rate of absenteeism is likely to be higher in days before and after a holiday.
Women tend to be absent more often than men.
Employee below the age 25 years and the above the age 55 years are absent more often than those the age group of 26 to 55 years.
Workers tend to be absent more frequently than supervisors and managers.
Absenteeism is generally higher in large organization than in small organization
Absenteeism is lowest on the pay day and in highest immediately after the pay day.
There is tremendous scope for reducing absenteeism through union leadership within an organization.
4. DATA ANALYSIS AND INTERPRETATION OF LABOR ABSENTEEISM
The data collected has the tabulated, analyzed, discussed, and interpreted using labels, percentages, and diagrams. The analysis and interpretation are done in relation to the set of objectives of the study. The researchers gathered data through observation, informal discussion with the employees, and with the help of interview schedules. The chapter contains persona, details of the respondent, and the general aspects related to labor absenteeism in Crypts Confectioneries (India Pvt Ltd).
SEX GROUP
In order to ascertain the views of both male and female workers, it is apt to have a work on the distribution of respondent on the basis of sex.
Table 4.1 Classification of respondent according to the sex.
| | | | |
| --- | --- | --- | --- |
| Sl No | Sex | No.Of respondents | Percentage |
| 1 | Male | 35 | 70% |
| 2 | Female | 15 | 30% |
| 3 | Total | 50 | 100% |
Source: Primary data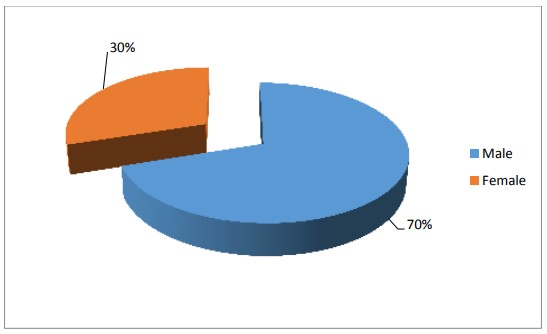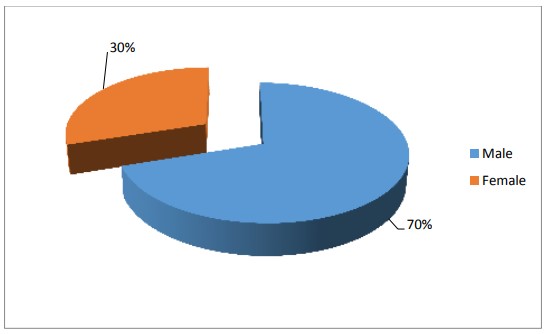 Inferences: The result of the study makes it leave that majority of the workers are 70 male. Female workers are only 30%
Marital Status
Marital status is an important factor which affects the attitude of the employee after marriage responsibility of a person increases and show most interest to come for work.
Table 4.2 Classification of respondent according to marital status
| | | | |
| --- | --- | --- | --- |
| Sl.No | Marital Status | No.Of respondents | Percentage |
| 1 | Married | 40 | 80% |
| 2 | Unmarried | 10 | 20% |
| 3 | Total | 50 | 100% |
Source : Primary Data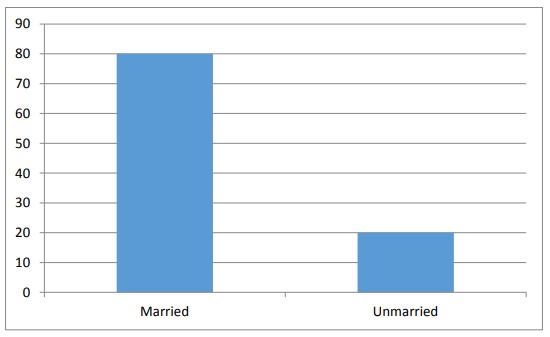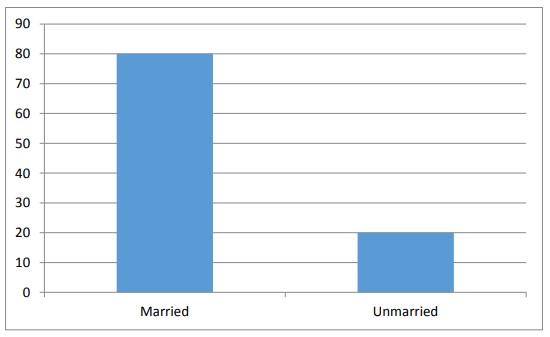 Inferences: The study of reveals that majority of the respondent 80% are married and 20% of employees are unmarried.
Age group.
Age is an important factor which affects the efficiency of an employee. For the proper performance of a job an employee should have some physical characteristics, it includes age.
Table 4.3 Age group of respondent
| | | | |
| --- | --- | --- | --- |
| Sl No | Age group | No.Of respondents | Percentage |
| 1 | 20 to 30 | 5 | 10% |
| 2 | 30 to 40 | 22 | 44% |
| 3 | 40 to 50 | 19 | 38% |
| 4 | Above 50 | 4 | 8% |
| 5 | Total | 50 | 100% |
Source : Primary Data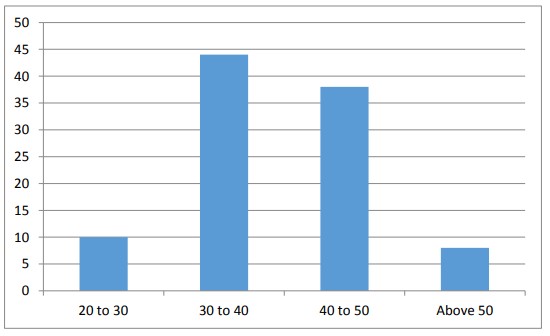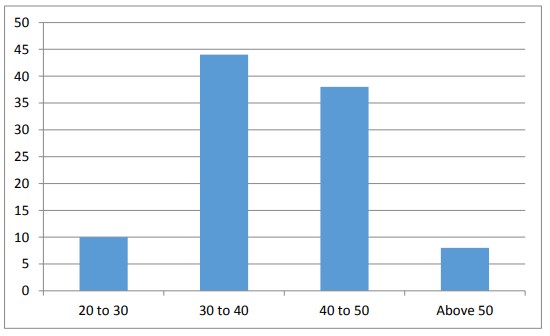 Inference:
Table 4.3 clearly shows that the majority of respondents belong to the age group 30 to 40 and only 8% of respondents belong to the age group above 50.
Educational Qualification
Educational qualification is an important characteristics for an employer considered for the selection of an employee. For Educated employees tend to the less satisfied therefore the education background of the employee are to be studied.
Table 4.4 Educational background of respondents
| | | | |
| --- | --- | --- | --- |
| Sl No | Educational qualification | No.Of respondents | Percentage |
| 1 | SSLC | 9 | 18% |
| 2 | HSC | 20 | 40% |
| 3 | Graduation | 18 | 36% |
| 4 | PG | 3 | 6% |
| 5 | Total | 50 | 100% |
Source: Primary data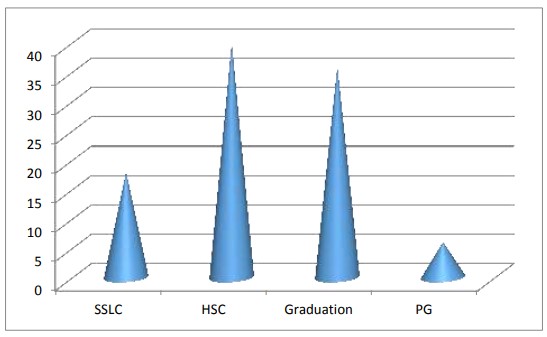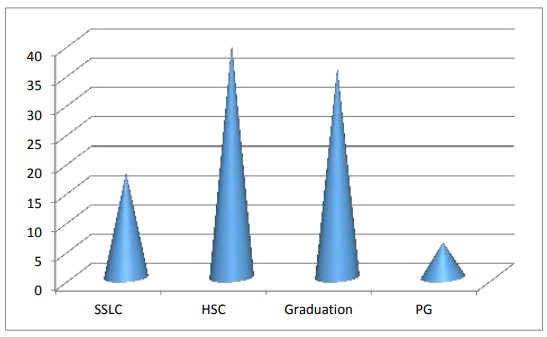 Inference: The table 4.4 indicates that majority of employees 40% belong to HSC or above level, only 18% of employees are below HSC qualified.
System of working
Employees may or may not be under shift system .It has great input on the absenteeism rate. If they are working under shift system that tendency of absenteeism may be higher.
Table 4.5 System of Working
| | | | |
| --- | --- | --- | --- |
| Sl no | System | No.Of respondents | Percentage |
| 1 | Shift | – | – |
| 2 | Ordinary | 50 | 100% |
| 3 | Total | 50 | 100% |
Source: Primary Data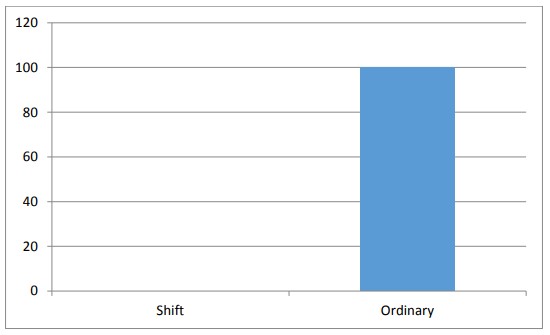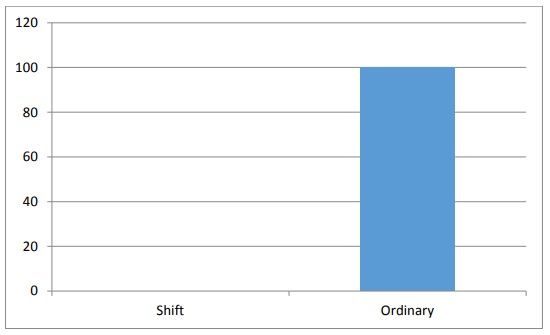 Inference:
Table 4.5 clearly shows that 50 or 100% of workers are ordinary. No employee"s works under the shift system in Cryptms.
Employee satisfaction on salary.
Lack of sufficient salary may be a reason for the absenteeism. The following table shows employee satisfaction among workers.
Table 4.6 Employee satisfaction on salary.
| | | | |
| --- | --- | --- | --- |
| Sl no | Opinion | No.Of respondents | Percentage |
| 1 | Highly | 8 | 16% |
| 2 | Satisfied | 38 | 76% |
| 3 | Dissatisfied | 4 | 8% |
| 4 | Total | 50 | 100% |
Source: Primary data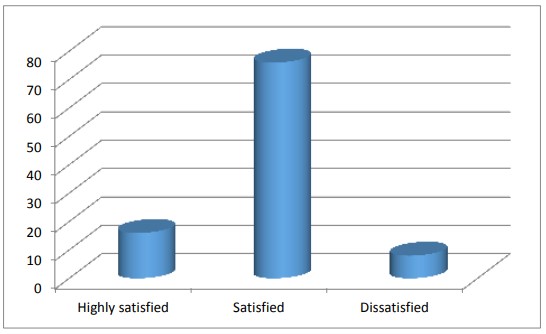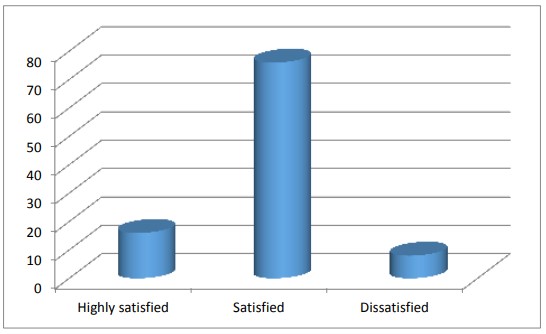 Inference: Figure 4.6 shows clearly that 76% of workers are satisfied with the salary and 16% of workers are highly satisfied with the salary only 8% of workers are given a salary.
Employee satisfaction on working load.
Work load is another important factor to be considered while studying absenteeism.
The following table shows the opinion of employees in the company.
Table 4.7 Employee satisfaction on working load.
| | | | |
| --- | --- | --- | --- |
| Sl no | Level | No.Of workers | Percentage |
| 1 | Heavy | 11 | 22% |
| 2 | Normal | 20 | 40% |
| 3 | less | 19 | 38% |
| 4 | Total | 50 | 100% |
Source: Primary data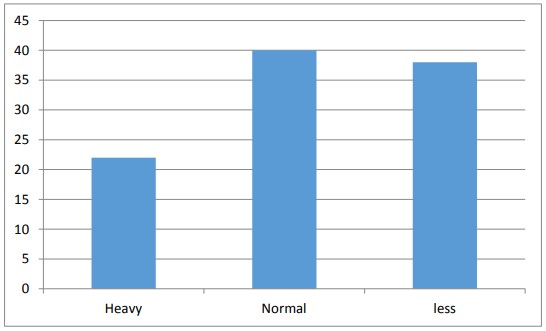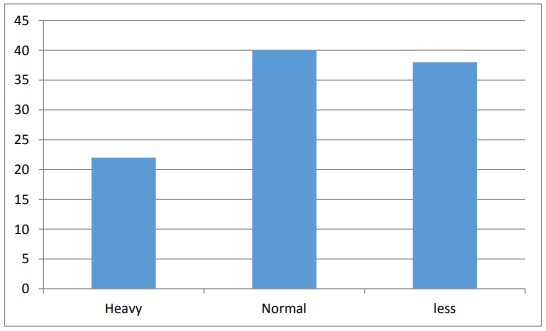 Inference: Figure 4.7 clearly shows that the majority or 40% of workers are satisfied with the workload. But 22% of workers are satisfied with their workload.
Leave Arrangement
Lack of sufficient leave facilities leads to absenteeism. The employee satisfaction on leave facilities are as follows.
Table 4.8 Leave arrangement.
| | | | |
| --- | --- | --- | --- |
| Sl no | Shifts | No.Of respondents | Percentage |
| 1 | Satisfied | 30 | 60 |
| 2 | Dissatisfied | 20 | 40 |
| 3 | Total | 50 | 100 |
Source: Primary data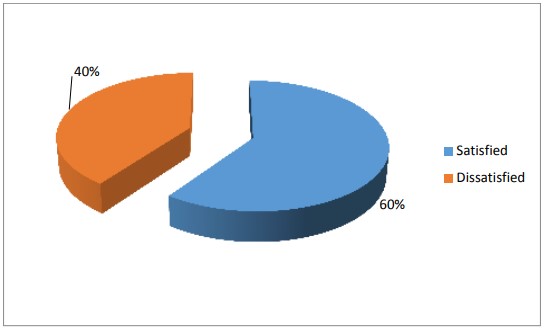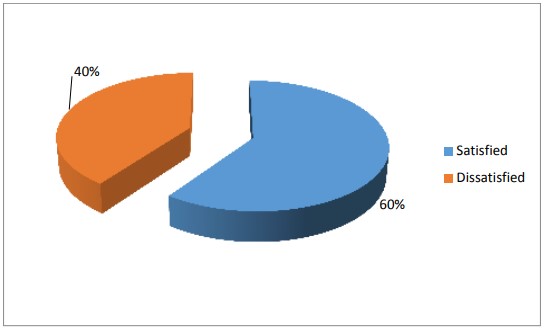 Inference: Table 4.8 clearly shows that a major part or 60% of workers are satisfied with the leave arrangement. 40% of respondents are dissatisfied with the leave arrangements.
Superior's consideration grievances and complaints.
If the employee considers, employee complaints and suggestions then the absenteeism can be reduced.
Table 4.9 Grievances and complaints.
| | | | |
| --- | --- | --- | --- |
| Sl no | Type of consideration | No.Of respondents | Percentage |
| 1 | Good | 18 | 36 |
| 2 | Fair | 22 | 44 |
| 3 | Not Satisfied | 10 | 20 |
| 4 | Total | 50 | 100 |
Source: Primary data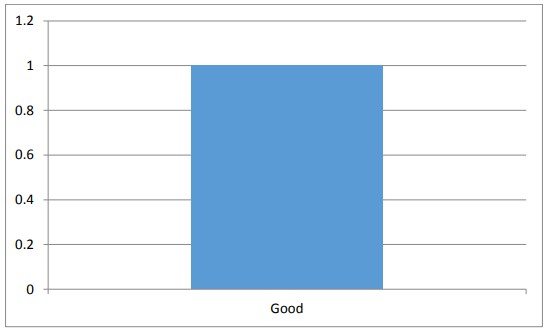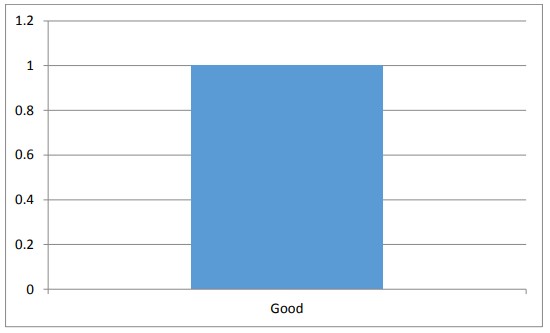 Inferences: Figure 4.9 clearly show that 44% of workers are satisfied with the grievance procedure.22% of respondents are dissatisfied with the grievance and complaints procedure of Crypts.
Monotonous in work
It is a major factor that influences the absenteeism rate. A worker is likely to be frequently absent when the job is tough and monotonous in nature. In such a job the work gets tired physically and mentally.
Table 4.10 Monotonous in work
| | | | |
| --- | --- | --- | --- |
| Sl no | Shifts | No. of respondents | Percentage |
| 1 | Yes | 30 | 60% |
| 2 | No | 20 | 40% |
| 3 | Total | 50 | 100% |
Source: Primary data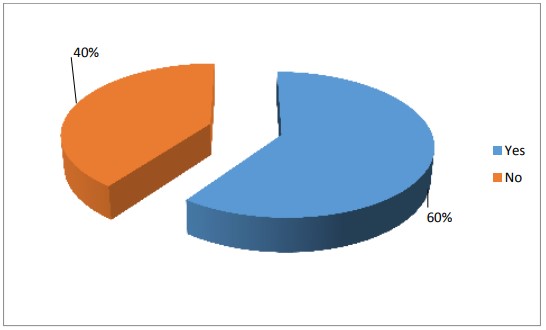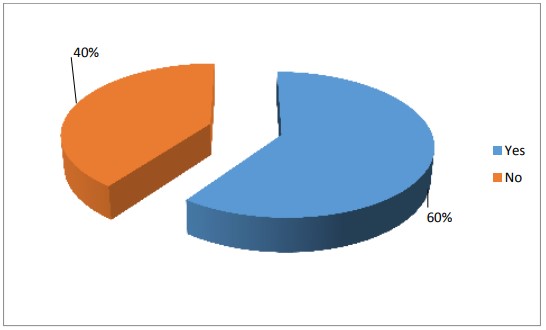 Inference: The table shows that 60% of worker felt monotonous in their work and 40% do not feel monotonous in their work.
Employee satisfaction with working conditions
When the work arrangement is unsatisfactory worker are frequently absent on the other hand on attitude working will schedule absenteeism rate.
Table 4.11 Employee satisfaction on working condition.
| | | | |
| --- | --- | --- | --- |
| Sl no | Opinion | No. of respondents | Percentage |
| 1 | Yes | 46 | 72 |
| 2 | No | 4 | 8 |
| 3 | Total | 50 | 100 |
Source: Primary data
Figure 4.11 Employee satisfaction on working condition.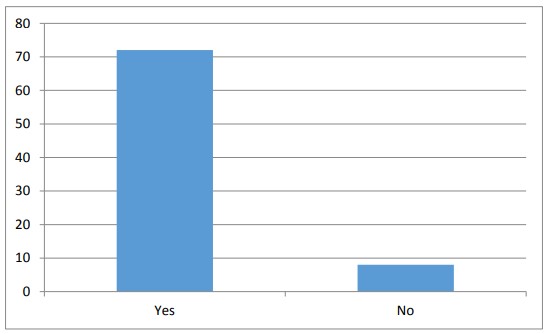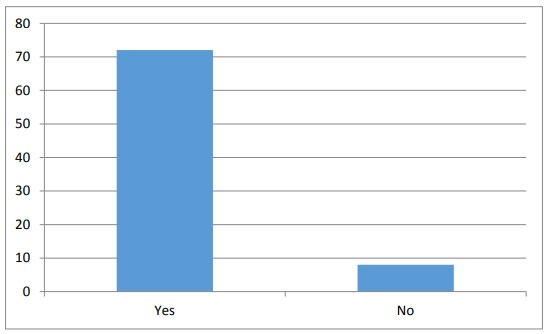 Inferences: Table 4.11 shows that 92% of the working conditions of Cryptms are very good. Only 8% of employees are dissatisfied with the working condition.
Training facilities
In order to meet the demands of the job and technologies changes, sufficient training facilities are necessary people training on develop positive attitude among  employees job satisfaction and mood are important due to risk in the earnings and job security of the employees.
Table 4.12 Training Facilities.
| | | | |
| --- | --- | --- | --- |
| Sl no | Opinion | No. of respondents | Percentage |
| 1 | Satisfied | 33 | 66 |
| 2 | Not satisfied | 17 | 34 |
| 3 | Total | 50 | 100 |
Source: Primary data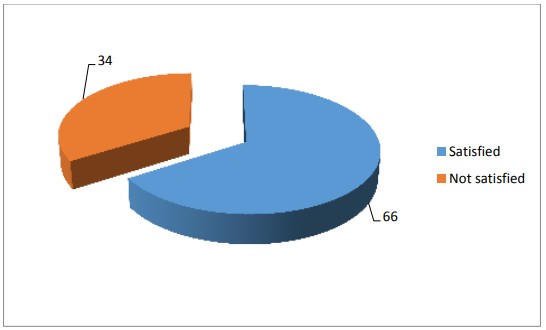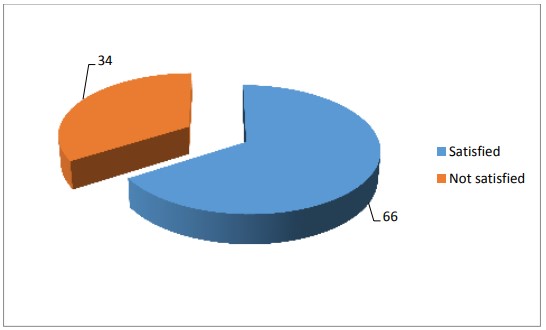 Inferences: Table 4.12 clearly shows that 66% of workers are getting sufficient training facilities.34% of employees only think training facilities of Cryptms are not sufficient.
Average leave taken
A provision should be made where in every worker can avail a few deep leave during the year. Holidays will pay enable a worker to attend to his private affairs.
Table 4.13 Average number of days leave taken by the employees.
| | | | |
| --- | --- | --- | --- |
| Sl. no | Average leave days(Month) | No. of respondents | Percentage |
| 1 | Less than 2 | 4 | 8 |
| 2 | 2 to 5 | 34 | 68 |
| 3 | Maximum 5 | 12 | 24 |
| 4 | Total | 50 | 100 |
Source: primary data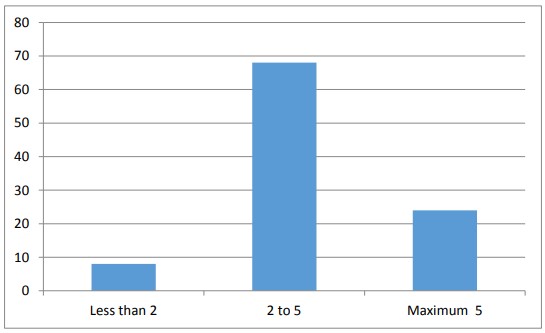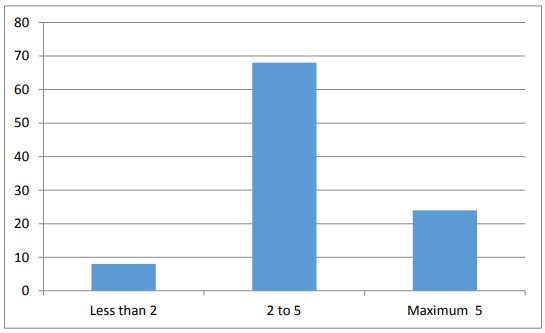 Inferences: Figure 4.13 clearly shows the leave arrangement of Cryptms is satisfied with the opinion of 65% of respondents.
Basis for promotion policy.
When the promotion policy is unsatisfactory, workers are not interested to do their work. On other hand on attractive promotion policy employees are hardworking and it reduce absenteeism.
Table: 4.14 Basis of promotion policy
| | | | |
| --- | --- | --- | --- |
| Sl. no | Basis | No. of respondents | Percentage |
| 1 | Seniority | 15 | 30% |
| 2 | Merit | 5 | 10% |
| 3 | Seniority- | 30 | 60% |
| 4 | Total | 50 | 100% |
Source: Primary data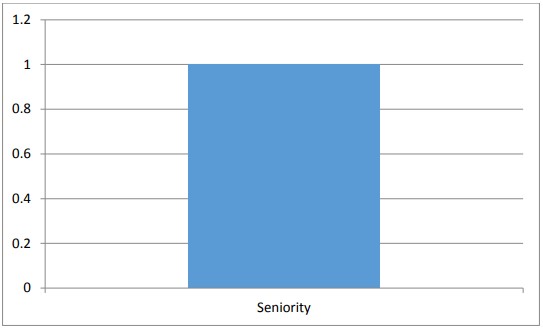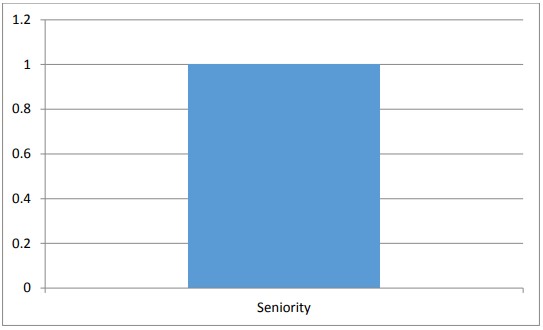 Inference: Figure 1.14 shows that the promotion policy of Cryptms 60% from the basis of seniority-cum-merit. Only 30% promotion gives on the basis of seniority and 10% on the basis of merits.
Employer-Employee relationship.
The employer-employee relationship also may cause absenteeism in the company. When the managers treat workers are more fools, the rate of absenteeism is likely to be high.
Table 4.15 Employer-Employee relationship.
| | | | |
| --- | --- | --- | --- |
| Sl. no | Opinion | No. of respondents | Percentage |
| 1 | Good | 18 | 36% |
| 2 | Satisfactory | 22 | 44% |
| 3 | Not satisfactory | 10 | 20% |
| 4 | Total | 50 | 100% |
Source: Primary data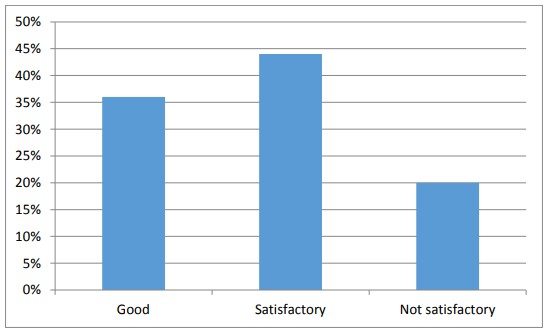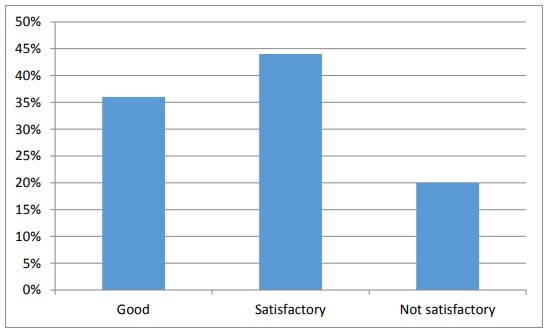 Inference: Table 15 shows that employer-employee relation in the cryptms satisfactory only 20% employees are not satisfied with the employer-employee relationship.
Leave for union work
Trade union and union activities may lead service disturbance in the organization. As a result sometimes the rate of absenteeism may increase.
Table: 4.16 Leave for union work
| | | | |
| --- | --- | --- | --- |
| Sl no | Opinion | No. of respondents | Percentage |
| 1 | yes | 6 | 12 |
| 2 | no | 44 | 88 |
| 3 | Total | 50 | 100 |
Source: Primary data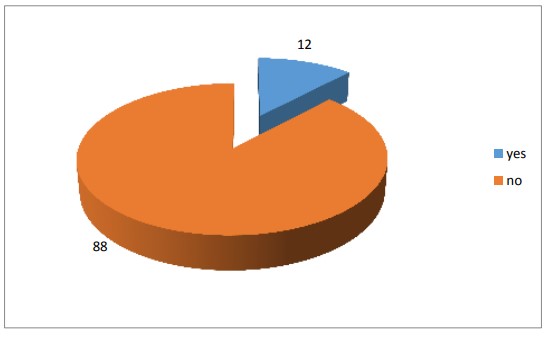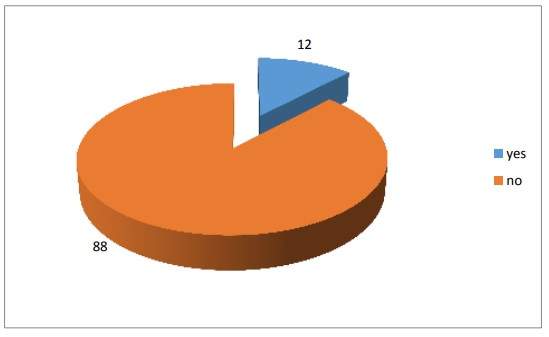 Inference: Table 16 shows that only 12% of workers take leave to attend union work remaining 88% of them do not take leave to participate in union work.
Source of income
Source of income have great impact on absenteeism of employees. The degree and earning from other source determine the level of absenteeism.
Table 4.17 Source of Income
| | | | |
| --- | --- | --- | --- |
| Sl no | Opinion | No. of respondents | Percentage |
| 1 | yes | 12 | 24% |
| 2 | no | 38 | 76% |
| 3 | Total | 50 | 100% |
Source: primary data
Figure 4.17 Source of Income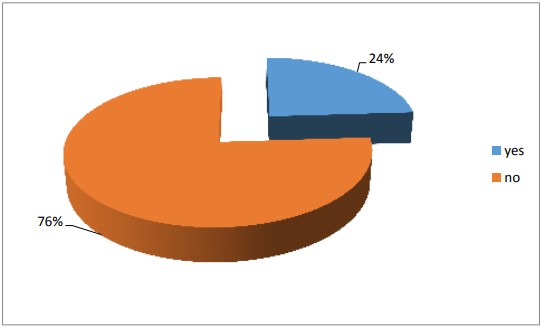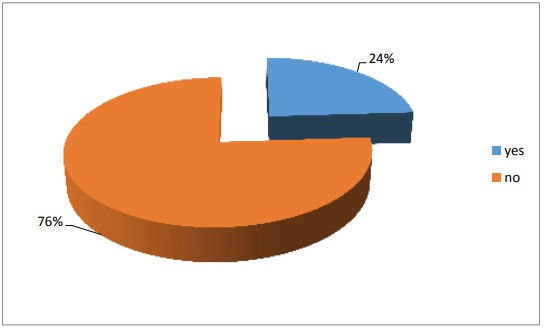 Inference: Table 4.17 shows that 76% of workers of cryptms depend upon their work only. They have no other source of income. It helps to reduce absenteeism and the other 24% of employees have another source of income.
5. FINDINGS, SUGGETION AND CONCLUSION
The main findings of the study based on the analysis of data obtained from respondents with the help of interview schedule and research observation are presented.
The result indicates that the majority of respondents 70% are male.
A substantial portion of the absentee employee 80% are married.
The age-wise classification reveals that the majority of employees belong to the 30-40 group and only 10% belong to the below 30 groups.
Most of the employees have higher secondary education.
100% of workers are ordinary workers
About 8% of the worker's opinion that salary is not sufficient.
The workload is comparatively normal (40%)
The majority (60%) of employees are satisfied with the leave arrangements.
20% of the employees are of the opinion that the grievance procedure is unsatisfactory.
60% of employees feel monotony in their work.
Most of the employees have a good opinion about their working conditions. (92%)
Training facilities are comparatively very good. (66%).
The average no. of days of leaves taken by the employee in a month is between 3-5 (68%).
A reasonable portion of promotion is on the basis of seniority – cum- merit.
Only satisfactory employer-employee relationships exist there in the organization.
Only 12% of the workers take leave to attend union activities.
The majority of workers main income is from employment (76%)
The major season for absenteeism is sickness (50%) and family problems (20%)
SUGGESTIONS
Based on the findings of the study the following suggestions are made to control absenteeism rate.
Identification of steady attender by means of up-to-date attendance register.
The company can introduce or improve proper grievance redressed procedures.
The employees should be shifted from one work to another in order to reduce monitory in their work and thereby reduce absenteeism.
To introduce a new reward system for good attendance.
Attractive incentives and bonuses should be given to the workers having full attendance.
Give "Counseling with absenteeism"  is one of the important aspects to reduce absenteeism.
If the absentee continues the habit, take appropriate disciplinary action.
CONCLUSION
The company with a highly committed and disciplined workforce will be able to perform better in the coming years as it offers the branded product at a reasonable price that is affordable to the common man. By adopting effective measures to control the rate of absenteeism, the company can improve the efficiency of production and thereby the strength of the organization.
BIBLIOGRAPHY
Authors                  Books and Publications
FLIPPO B.EDWIN             : "PRINCIPLES OF PERSONNEL MANAGEMENT ", McGraw Hill Kogukusha Company Ltd., Tokyo, 1971. 
SON TAKI C.N                 :" PROJECT MANAGEMENT", Kalyani Publishers, New Delhi, 2003.
Dr. GUPTHA C.B              : "HUMAN RESOURCE MANAGEMENT" Sultan Chand and Sons Daryagani, New Delhi, 1990
KAPOOR N.D                   : "HAND BOOK OF INDUSTRIAL LAW" Sultan Chand and Sons Daryagani New Delh. 1998
KOTHARI C.R                   : "RESEARCH METHODOLOGY" New Age International Publishers (P) Ltd, New Delhi, 2003
DAVER R.S                       : "PERSONNEL MANAGEMENT 86 INDUSTRIAL RELATIONS", Vikas Publishing House, New Delhi, 1996
Keywords: Labor Absenteeism, Employ Absenteeism, Study on Labor Absenteeism, Study on Absenteeism