Topic: Stress strain curve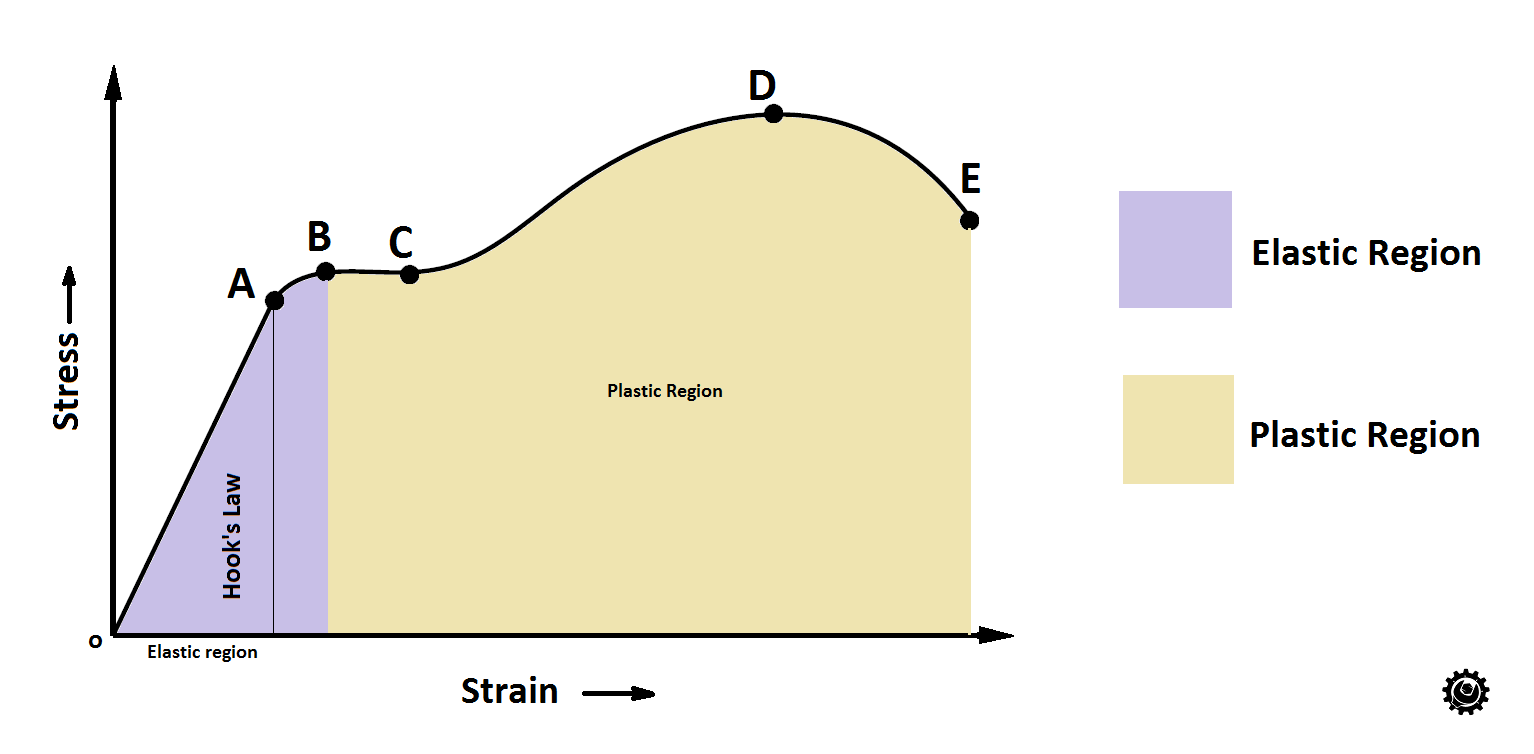 Stress strain curve
If we draw a graph between stress and strain while applying a load on a body, the above Stress strain curve represents the behaviour of the body with respect to the applied load. (Take Stress on Y-axis and Strain on X-axis.)
There are two behaviours of the metals, in this case, they are
Elastic behavior: the body will get its original shape when the load is removed.
Plastic behavior: Permanent deformation happen (No restoring forces).
O-A: Proportional limit
In the above Stress strain diagram, the curve o-A represents Proportional limit.
It obeys Hook's law. The stress is directly proportional to strain.
The material will get its original shape when the load is removed.
A-B: Elastic Region
In this region this will not obey Hook's law, However, the material still elastic in this region.
which means the material can get its original shape when the applied load is removed. but not in a proportional manner.
The point B Is called Elastic limit.
B-C: Yield Stress
Where in stress strain diagram The path B-C represents the yield stress. where the body takes the deformation permanently with no/Little increase in the stress. This stress is called yield stress point.
C-D: Ultimate Stress
From Yield stress point (C) to Ultimate stress point, within a small increase in stress Cause the more deformation.
This is the maximum stress that material has to bear before it going to be break or fail.
E: Rupture Point/Breaking
If the applied load crosses the Ultimate stress(maximum bearing capacity of the material), with no increase in the stress, the body will fail at this point. This is called breaking point or Rupture point.
See the curve between the D and E,  The stress drops after the point D and at point E this body starts breaking.